RESOURCES
MIL COTS - Power Conversion Products
---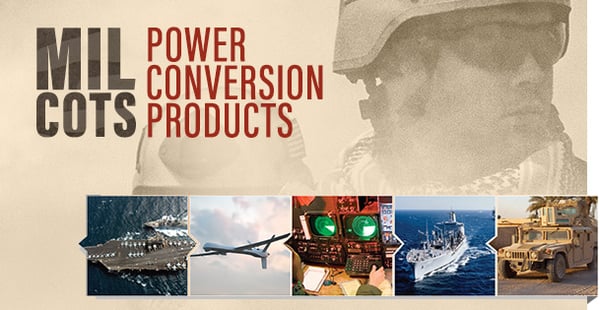 Military Applications...
present challenges to power conversion products by the very nature of the harsh environment they must operate in. They are first required to demonstrate reliability during all test phases, but more importantly in the battlefield, performing in the demanding application itself- where it counts.
Reliability is the key driver in mission critical applications and for over 50 years, AstrodyneTDI has demonstrated a solid history and reputation in the military marketplace, providing solutions for many of today's sophisticated weapon, command and control systems. These power systems are designed to meet stringent MIL STD specifications and endure the harsh environmental and electrical requirements of today's battlefields. Today, Astrodyne TDI COTS can assist in low and high power conversion of AC to DC, DC to AC , DC to DC as well as all EMI filter requirements in between.
Benefits of COTS/Modified COTS
Many military contractors worldwide are sensitive to costs , design cycles and performance. There are many applications with requirements that need to withstand the rigors and extremes of mother nature, where most off the shelf power products designed for commercial use would not endure.
Many Astrodyne TDI power products were engineered specifically as platforms for industrial, automotive and military applications so the design effort using Astrodyne TDI COTS is greatly reduced not only internally, but also for contractors and integrators who need to qualify to MIL specifications to suit specific ruggedness and environmental requirements. The use of COTS results in overall reduction of cost and development time,faster deployment of solutions and shorter lead times versus a customized built-to-order solution.
What is HASS?
Highly Accelerated Stress Screening (HASS) is performed on 100% of all Astrodyne TDI high power, production ready COTS products (each and every product produced). More stressful than Mil-Spec Environmental Stress Screening (ESS), HASS subjects units under test to a rigid temperature, shock vibration and electrical parameters profile.
What is HALT?
Highly Accelerated Life Testing (HALT) is pre-production process performed to uncover limitations in product design, component selection and manufacturing that would not otherwise be found through conventional qualification methods. The process subjects the unit to progressively higher stress levels, incorporating thermal dwells, rapid temperature transitions, vibration, and a combination of temperature and vibration to precipitate inherent defects. Astrodyne TDI performs HALT on each and every high power design.