RESOURCES
Guide to EMC Standards for Home Appliances
---
When designing any electronic device, electromagnetic compatibility (EMC) is one of the top considerations. With good EMC, you can keep your device from emitting and receiving signals that can interrupt functionality. EMC is also a crucial part of meeting the standards and requirements of different organizations and governments. Not meeting these standards can prevent you from selling your product in significant markets.
Complicating the process is the varying standards for different types of devices. Industrial washers differ from consumer washers, which differ from kitchen blenders. Let's look at what you need to know about designing consumer and commercial appliances for EMC specifications.
What Are EMC Standards?
Every electronic device creates electromagnetic noise, and designing for EMC is about controlling that noise. With a range of technologies and design strategies, designers must prevent their electronics from releasing this interference and affecting the functionality of other devices. In turn, every device should have protection from interference. This system of compatibility ensures our electronics can coexist and work properly.
The level of EMC required can vary widely. If a coffee maker stops working, the repercussions likely aren't very drastic. On the other hand, the equipment in an operating room must stay functional at all times. The standards for medical equipment are understandably more strict than those for consumer devices. The same line of thinking applies as we compare household appliances, consumer-grade electronics, and industrial-level equipment.
Standards will also vary by the regulating body. Some of the organizations that establish standards for EMC include:
The European Union (EU), which issues the CE marking
The British Standards Institution (BSI), which makes British Standards (BS)
The United States Federal Communications Commission (FCC)
The Standards Council of Canada (SCC)
The Japanese Voluntary Control Council for Interference (VCCI)
Thankfully, many of these groups turn to international standards to determine requirements, so designers can often focus on a few standards that apply to multiple regions, making worldwide sales easier. Some popular international standards come from the Comité International Spécial des Perturbations Radioélectriques (CISPR), the International Electrotechnical Commission (IEC), and the International Organization for Standardization (ISO). You'll also see European Standards used, which is abbreviated as EN from the German term "Europäische Norm." Lastly, the popular UL marking comes from an international group, UL Solutions.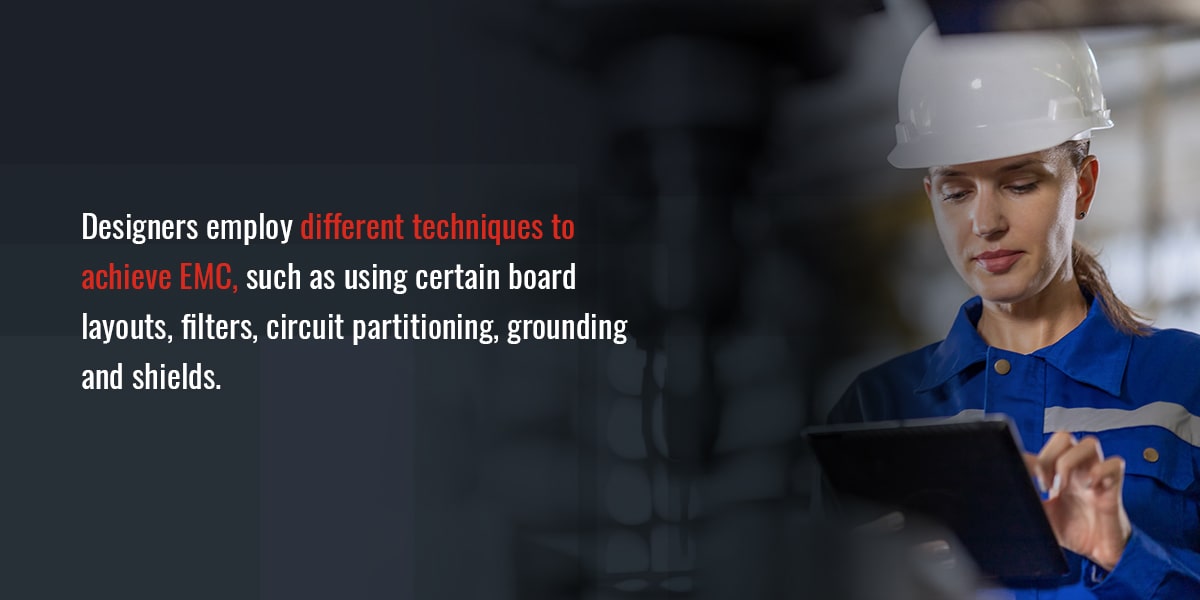 Guide to EMC Standards for Home Appliances
Designers employ different techniques to achieve EMC, such as using certain board layouts, filters, circuit partitioning, grounding and shields. These strategies can stop electromagnetic noise and prevent it from causing compatibility issues in several ways. For instance, a filter works well on low-frequency lines, while shields are most effective at high frequencies. The right strategies vary widely by device and applicable standards.
EMC Standards for Small Household Appliances and Power Tools
Small household appliances are often near other electronics, including larger devices and smaller ones. Some examples include:
Hand and stand mixers
Toaster ovens
Blenders
Waffle makers
Coffee grinders
Coffee pots
Slow cookers
Food processors
Griddles
Hair dryers
EMC design guidelines for these devices include the following:
CISPR-14-1: This standard, last updated in 2020, outlines requirements for devices that operate in the frequency range of 9 kilohertz (kHz) to 400 gigahertz (GHz). It applies to AC and DC appliances, electrical tools and similar apparatus and outlines emissions requirements. CISPR-14-1 also covers separate parts of these items, like motors and switching devices. The EN standard BS EN IEC 55014-1 is based on CISPR-14-1.
CISPR-14-2: The counterpart to CISPR-14-1, CISPR-14-2 outlines immunity requirements for similar devices. It applies to devices in the frequency range of 0 Hz to 400 GHz.
BS EN 62233: This standard provides measurement methods for assessing electromagnetic noise in these devices and its effect on human exposure.
The EMC Directive: The EU's Directive establishes performance standards for countries that require a CE marking for sale.
EMC Standards for White Goods
Designing appliances for EMC standards often requires meeting guidelines for large pieces of equipment. White goods refer to larger appliances like:
Washers
Dryers
Refrigerators
Freezers
Dishwashers
Electric stoves
Vent hoods
Microwaves
Vacuums
These devices also fall under COneSPR 14-1 and 14-2. IEC 61000 includes sections covering white goods, including Parts 4-2, 4-4, 4-5 and 4-6. These parts outline requirements for electrostatic discharge immunity, burst/electrical fast transient immunity, surge immunity and immunity to radio frequency-induced conducted disturbances.
EMC Standards for Commercial Appliances
Commercial appliances are used in industrial or commercial settings. Some examples include the following:
Restaurant appliances, like industrial stoves, refrigerators, and walk-in freezers
Hotel appliances, such as industrial washers, stoves, refrigerators, minifridges, and microwaves
Laundromat appliances, including industrial washers and dryers
Many of these devices fall under specific standards for that type of equipment. For example, UL 621 offers a standard for ice cream makers, while UL 471 covers commercial refrigerators and freezers. The EMC Directive from the EU also applies to commercial appliances.
Here are some standards to consider for different types of devices:
IEC 60335-2-89: This standard applies to commercial ice makers and refrigerating appliances that have a remote or incorporated refrigerant unit or motor compressor.
IEC 60335-2-118: IEC 60335-2-118 covers commercial-use appliances for making ice cream and artisan gelato.
IEC 60335-2-75: Vending machines and other electric commercial dispensing appliances fall under IEC 60335-2-75.
UL 471: UL 471 is for commercial refrigerators and freezers meant to be connected to AC circuits rated below 600 volts.
UL 563: Ice makers fall under UL 563. It applies to ice makers designed for AC connections below 600 volts.
UL 621: This UL standard covers ice cream makers connected to AC circuits rated below 600 volts.
UL 751: UL 751 outlines requirements for payment-accepting, self-contained vending machines with non-refrigerated products.
Of course, this list is not exhaustive, and many commercial appliances fall under their own standards.

Optimize Appliances for EMC With Astrodyne TDI
Meeting regional or global standards for electrical equipment can be complex. The right components and some expert support make it easier. At Astrodyne TDI, we have both. We offer a wide range of power supplies and EMC filters to help you meet or exceed applicable standards for your products.
Reliable equipment can help you pass certification tests with flying colors and ensure your products' continued safety and positive reputation. We build components for some of the strictest industries, including military and medical equipment, so we know how to meet unique design specifications.
Explore our off-the-shelf power supplies and filters online! If you need custom components or aren't sure what you need, please reach out to our knowledgeable team for more information!