RESOURCES
IEC/EN/UL 62368-1 Compliance and Standards
---
Product safety standards are constantly changing to keep up with the latest technology, and a substantial change is quickly approaching. The new IEC 62368-1 compliance standards are set to replace standards IEC 60950‑1 and IEC 60065, which cover information technology equipment (ITE) and audio/video equipment (AV), respectively. While these former standards covered discrete groups of power-based products, the new IEC 62368-1 compliance standards will cover all of them with comprehensive safety requirements. This merging of safety requirements has become increasingly necessary in recent years as the boundaries between ITE and AV equipment becomes less distinct in new technologies.
Implementation of IEC 62368-1 in North America and the EU is quickly approaching, bringing with it different product testing and certification requirements. OEMs need to understand these new requirements and what they mean. To assist, this article will serve as an intro to IEC 62368-1 standards and compliance, explaining the changes, the reasons for those changes and how to comply with IEC 62368-1.
What Changed from 60950-1 to 62368-1?
As IEC 62368-1 replaces 60950-1 and 60065, OEMs are sure to notice significant changes in standards and general approach. This is because IEC 62368-1 is not merely a merger of the two pre-existing standards — it is based on an entirely different set of engineering terms and principles. Some of the basic changes in focus and principle are:
Focus: Unlike IEC 60950-1 and IEC 60065, IEC 62368-1 is not a product-dependent standard. Instead, it focuses on the energy sources inside a product and how they are handled. This makes the standard easier to apply to new technologies without amendments.
Risk management: Side-by-side the IEC 62368-1 comparison to 60950-1 shows another significant change from incident-based regulation to hazard-based safety engineering.
Organization: Unlike previous standards, IEC 62368‑1 places all tests into Annexes instead of in the body of the standard. This was meant to facilitate easier edits and updates in the future.
Terminology: New terminology is used throughout the IEC 62368‑1 standard, meaning it will be important to relearn the application and intent of each word and phrase. For example, the new standard uses the word "safeguard" for any device or setup that protects from energy source failure, and the phrase" "abnormal condition" has been changed, so it excludes non-normal conditions caused by a component or part failure.
Because of these substantial changes, existing products that meet IEC 60950-1 or 60065 standards may need to be re-investigated to ensure they meet the new IEC 62368-1 compliance standards.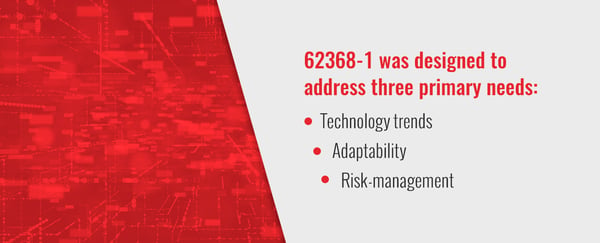 Reasons for the Change
The reasons for IEC 62368-1 to replace 60950-1 and 60065 are largely based on changing technologies and perspectives in manufacturing. While the previous standards served OEMs well, a change was needed to address the needs of newer technologies. For this reason, 62368-1 was designed to address three primary needs, discussed in more detail below:
Technology trends: Technology is continuously developing, but continuous changes have seen the lines between AV and ICT equipment become increasingly blurred. As the lines between ICT and AV equipment became less distinct, the need for a unified standard became more apparent. By replacing the IEC 60950-1 and 60065 standards, IEC 62368-1 sets a unified framework for safety evaluation for all parts and products that fall within these categories.
Adaptability: Adaptability has become increasingly important with the continued development of technology. While addressing the blurred lines between ICT and AV equipment was necessary, IEC 62368-1 also needed to be written in a way that could carry over to future technologies without extensive rewrites and amendments. IEC 62368-1 handled this by focusing on setting standards for energy sources rather than individual products — while products change, energy sources are more consistent from one generation to the next, meaning that IEC 62368-1 can go for more extended periods without expensive edits.
Risk-management: IEC 62368-1 also changes perspective in safety standards from incident-based to hazard-based, which is a new and more preferable approach to manufacturing
With these emerging needs, IEC 62368-1 implementation comes at the perfect time, providing necessary adaptability and shifts in focus that will be more consistent and applicable for OEMs as technology continues to advance.
Hazard Based Safety Engineering Principles
IEC 60950-1, 60065 and other previous standards are "incident‑based." This means that an incident causes new requirements to be added to the standard. A prime example is how fires at the 1893 Chicago Columbian Exposition's "Hall of Electricity" resulted in a committee developing better electrical insulation requirements. Modern incident-based safety standards aren't usually developed as a result of such dramatic events — instead, they are written around both real and experimentally probable incidents.
While incident-based engineering addresses problems as they arise, this perspective is not preventative. This perspective waits until an issue arises to take action, which can be a problem for manufacturers spending millions on producing and distributing products, only to find a significant error that necessitates a recall. With ever-growing production lines and continuously developing technology, a preventative approach is becoming increasingly necessary. IEC 62368-1 addresses this need.
IEC 62368-1 is based on Hazard Based Safety Engineering (HBSE) principles. This safety discipline has become increasingly popular over the last few decades for its performance-oriented philosophies, efficacy, and flexibility. In HBSE-based standards, the focus is placed on existing hazards within the equipment and how to design them for maximum safety. It requires the identification of the possible injuries caused by hazards including:
Electrical energy
Electric shock
Thermal burns
Mechanical energy
Acoustic energy
Hazardous substances
Radiation
It then requires the appropriate use of safeguards to reduce the likelihood of pain, injury, fire and other incidents. HBSE logic is summarized as follows:
Identify the energy sources within the product.
Measure the energy levels produced by the source.
Determine if the energy produced is hazardous.
Classify the energy source into Class 1, 2 or 3 based on magnitude, duration and hazard.
Identify how energy from the source may be transferred into the body of the product.
Determine appropriate safeguard schemes to protect consumers from pain and injury and reduce the likelihood of the product generating a fire hazard.
Measure how effective the safeguards are under various usage conditions.
Hazard based safety engineering and testing in IEC 62368-1 is accomplished by specifying that, if the equipment is designed with a Class 2 or 3 energy source, the design must place a safeguard between the body of the product and the energy source. This requirement addresses potential safety hazards and allows for design flexibility.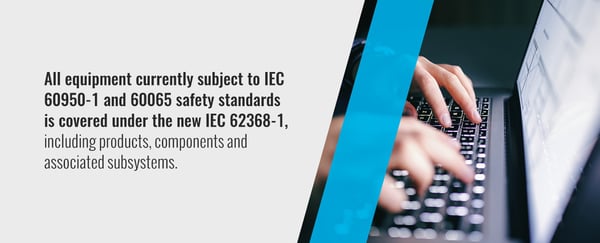 Scope of the New IEC/UL 62368-1 Regulation
With the publication of the new regulation, product safety engineers and manufacturers are wondering what to expect from IEC 62368-1 and what products fall within its scope. Fortunately, this is clearly defined by the new regulation. All equipment currently subject to IEC 60950-1 and 60065 safety standards is covered under the new IEC 62368-1, including products, components and associated subsystems. However, there are other products currently outside of these categories that will also be subject to the new regulation.
The IEC 62368-1 2nd edition defined the basic list of covered products as follows:
Network and computer products: This includes servers, routers, PCs, notebook computers, laptop computers, tablets and all associated power supplies.
Consumer electronics: This includes digital cameras, personal music players and sound systems.
Display units: This includes computer monitors, TVs and projector systems.
Telecommunication products: This includes all phones, communication devices and other network infrastructure equipment.
Office appliances: This includes printers, copiers and shredders.
This list is not exhaustive, and other ICT and AV equipment not listed above is not necessarily excluded from IEC 62368-1 safety standards. Because the new standard is not product-dependent, it is applicable to a wider range of products.
It is also important to note what IEC 62368-1 safety standards do not cover. Some areas that are not specified by this regulation include the following:
Outdoor Equipment: Any equipment designed to be used in wet areas or outdoor installations are not covered by this standard.
Manufacturing procedures: The general manufacturing process does not matter to the regulation. Only safety testing is of concern.
Disposal procedures: Disposal of applicable equipment is not regulated under this standard.
Storage procedures: Any storage or transportation methods used for IEC 62368-1 compliant products are not covered by the regulation.
Non-standard injuries: If the product is forcibly combusted, any injuries caused by the resulting gasses are not covered by the safety requirements of this standard. Similarly, injuries caused by flammable liquids, chemicals, or electrostatic discharge events are also not covered under this standard.
For the above areas, see other applicable standards to determine how to proceed.
How Does IEC 62368-1 Affect Power Supplies?
As discussed above, IEC 62368-1 doesn't just apply to products — it also applies to associated components and subsystems. This means that power supplies also fall within the scope of UL 62368-1 compliance standards, including chassis-mount and external power supplies and adapters.
Fortunately, very little is changing from a design standpoint. Below are the primary differences that may affect the design and usage of power supplies:
1. Dielectric Strength Test (Hipot)
60950-1 Regulation: The test voltage for basic insulation (i.e. input to Earth) for most designs is 1500Vrms or 2121Vdc. The test voltage for reinforced insulation (i.e., input to output) is 3000Vrms or 4242Vdc.
62368-1 Regulation: The test voltage for basic insulation increases to 2500Vdc. The test voltage decreases for reinforced insulation to 4000Vdc. In addition, unless you prefer to test with an AC equivalent voltage, the test must now be performed in both polarities as a "Type" test and also the "Production" test (on your ATP). For power supplies with a 480Vac input (i.e., Liquablade), the test voltage increases for basic insulation from 3060Vdc to 4000Vdc. Likewise, the test voltage for reinforced insulation increases from 4242Vdc to 6000Vdc.
2. Capacitor Discharge Test
60950-1 Regulation: The peak of the input voltage must decay to less than 37 percent of its value within one second for Pluggable Type A equipment like IEC/NEMA input plugs. This increases to 10 seconds for Pluggable Type B equipment like industrial plugs and terminal blocks.
62368-1 Regulation: The peak of the input voltage must decay to less than 60V within two seconds. In addition, it must decay below 120V within two seconds under a single fault. Single faults include opening a bleeder resistor. If you need to employ a bleeder resistor in your design to comply with this test, you'll now have to use two in parallel. Please note these requirements apply to both Pluggable A and Pluggable B equipment.
There are other differences between 60950-1 and 62368-1, but most don't apply to component power supply designs.
IEC/UL 62368-1 2nd vs. 3rd Edition
The 1st edition of IEC 62368-1 was published in 2010, and the 2nd edition in 2014. The third edition of IEC 62368‑1 as published by the International Electrotechnical Commission (IEC) in October 2018. This edition featured relatively minor changes that further merged the safety requirements for ITE and AV equipment in light of the upcoming mandatory switch. It also added clause clarifications, alternate testing methods and new requirements for a variety of product classes, including outdoor equipment, wireless power transmitters and work cells.
Additionally, unlike the IEC 62368-1 2nd edition, the 3rd Edition was updated to allow the acceptance of certain components previously certified under IEC 60950‑1. This means that new submittals must be done according to the new IEC 62368-1 requirements as of the effective date, but existing component recognitions can be continued with just minor changes.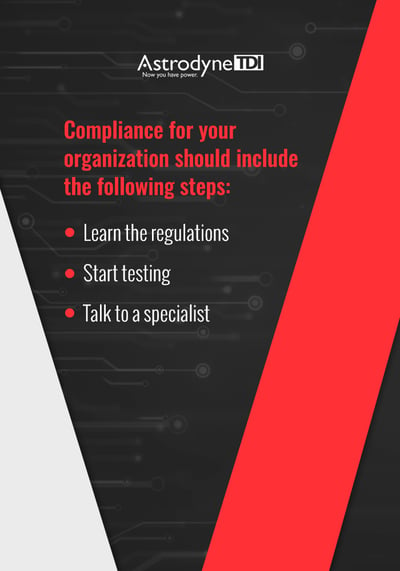 How to Comply With IEC/UL 62368-1
The IEC 62368-1 effective date is December 20, 2020, for both North America and the European Union. With this date quickly approaching, many manufacturers have already taken steps toward IEC 62368-1 implementation. Compliance for your organization should include the following steps:
Learn the regulations: The essential step is to study the standard. There are plenty of resources to help understand the standard and its unique terminology. Clause 0 of the standard serves as a good primer for the remaining material, and the IEC provides other resources to help understand the terminology and background of the sub-clauses.
Start testing: While certain components previously certified under IEC 60950‑1 may be accepted under IEC 62368-1 edition three, not all components will be accepted under this clause. Begin the process of qualifying products to standard requirements as soon as possible to allow time for IEC 62368-1 testing.
Talk to a specialist: If you're not sure how to begin or what to expect with IEC 62368-1, working with a specialist well-versed in compliance and standards will be helpful. They can help you determine where to go and what steps to take, so you are ready for IEC/UL 62368-1 compliance standards to take effect.
If you're looking for a specialist that can help your organization. Astrodyne TDI is here. We are able to provide guidance and ensure that your products and components are compliant.
Astrodyne TDA and IEC/UL 62368-1
With the switch from UL 62368-1 to UL 60950-1, Astrodyne is helping our customers adapt in a way that helps their business. For shipments in the USA and Canada, 60950-1 can still be used until it's withdrawn, which will likely happen in five to 10 years. For our customers who are only interested in obtaining 60950-1 compliance, we can continue with business as usual. However, any customer who requests an EN approval, TUV mark or CE mark would require us to seek and use the new standard.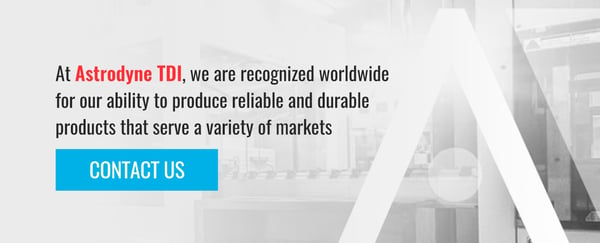 Choose Astrodyne TDI
Astrodyne TDI is a worldwide innovator in power and EMI filter solutions for demanding applications. With over 50 years of experience, we are recognized worldwide for our ability to produce reliable and durable products that serve a variety of markets, including the industrial, medical, aerospace, semiconductor and military industries.
Our manufacturing facilities in New Jersey, California and China use state-of-the-art technology to provide unique solutions to any problem. The facilities are also ISO 9001 and ISO 13485 certified, ensuring high quality and consistency. With our capabilities, we can easily handle the switch to IEC 62368-1 well before the effective date.
Learn more about Astrodyne TDI and our extensive services — contact Astrodyne TDI today!