RESOURCES
The Importance of PDUs in Test Equipment
---
The value and prominence of complex test equipment is growing rapidly across a number global industries. Custom test equipment systems play a critical role in quality control and throughput for precision product manufacturing, as seen in the testing of functionality and performance of electronic devices. Production capacity is bolstered considerably by automating these complex test processes. Automated and Semi-automated test equipment typically include various sensors, control mechanisms, and active subsystems used to accomplish testing within a wide range of applications.
When designing test equipment with complex functions or multiple active subassemblies, the delivery and control of power is of vital importance. This is often best handled by a custom power distribution unit (PDU), which takes input power signals and distributes them to the various downstream equipment. But how do you go about building a test system, and how are PDUs integrated into test equipment? We'll discuss these issues and more to help you understand the role of PDUs in test equipment.

Applications of Test Equipment
Automated test equipment (ATE) includes any control hardware, sensors or software that collect and analyze test results. The whole system can vary widely in complexity, ranging from a single computer-controlled multimeter to a system of dozens of test instruments, both real and simulated. The devices that undergo testing are known by many names, including equipment under test (EUT), unit under test (UUT) or device under test (DUT).
High value test equipment can conduct precision testing with minimal human intervention, collecting and analyzing the results to deliver meaningful data without extensive labor. For these reasons, ATE reduces testing costs, especially in high-volume testing applications. This quality makes ATE desirable for numerous applications, including the following:
Semiconductor industry: Semiconductor ATE can test a wide range of electronic devices and systems, from simple components like resistors and capacitors to more complex electronic systems like integrated circuits and printed circuit boards. ATE in this industry reduces the testing time to verify that a particular device or electronic system works. It also quickly finds faults in a broader range of testing situations compared to manual procedures.
Manufacturing industry: The manufacturing industry depends on delivering reliable products and components, many of which contain electronic components. ATE allows manufacturers to improve and maintain their quality without spending extraordinary amounts of time on testing.
Medical industry: The medical industry faces numerous challenges in designing electronic and software-run devices. Machines are becoming increasingly sophisticated and more dependent on similarly intricate electronics, while competition in the medical device field becomes more challenging. On top of it all, the Food and Drug Administration (FDA) requires extensive testing for devices to go to market in the United States. ATE for the medical industry has helped with all these challenges, running tests more quickly to ensure electronics are functional, competitive and compliant with FDA regulations.
Automotive industry: ATE quickly tests electronic modules in automobiles. Similarly to the semiconductor industry, engineers use automotive ATE to test equipment in multiple situations before they install it in a vehicle. Various automobile electronics specifically function for automotive applications. For this reason, automotive ATE usually tests functionality combined with motion or heat, making for more complex setups.
Aerospace and defense industry: Engineers commonly use ATE in the aerospace and defense industry to test for electromagnetic interference with radar and wireless communication. Global aerospace and defense organizations use ATE to quickly and thoroughly test new radio frequency (RF) and wireless technologies.
Because of automated test equipment's utility in such a range of markets, the global automated test equipment market is expected to increase drastically over the next several years. The market reached $4.36 billion in 2018, up from $3.54 billion in 2011, according to one research firm.

Test Equipment Procurement
Allotting time for testing is a struggle for engineers and designers in all industries. Between steadily decreasing part sizes and shrinking deadlines, engineers have found less time to set up increasingly complex tests. Nearly 15% of wireless engineers and 45% of contract manufacturing engineers outsource their final testing because of these challenges.
Even though automated test equipment poses a unique advantage to many industries, test engineers and directors in those fields still face numerous challenges in procuring and designing automated testing systems.
Some of the unique challenges encountered in automated testing systems include the following:
Multi-vendor procurement: One significant challenge in procuring test equipment is working with multiple vendors to get all the components needed. The more vendors involved, the more risk of delay. Additionally, designers may spend more money getting supplies from multiple vendors rather than from a single one that can offer better deals on product bundles. Also, more vendors means more repair sourcing when equipment fails. Finding a single vendor with all the equipment needed is challenging, but ultimately more beneficial for your budget, timeline and eventual repair needs.
Standardized equipment: Another issue that often arises is whether test components will work together effectively. Do they all meet specific standards and compliance requirements? Do they communicate effectively and produce results that can be easily translated or configured? Procurement managers must also consider these factors when selecting ATE.
Assembly needs: Test setups require some level of assembly. Every time a new test system is delivered, engineers must assemble and install the hardware and software before testing can begin. If the system is complex and needs more equipment, engineers have less time to focus on ensuring the test sequence performs as expected.
Many of these procurement challenges can be solved by working with specialists in system customization like Astrodyne TDI. By producing custom products that intelligently integrate multiple modules, Astrodyne TDI can shorten verification timelines, assembly time, and safety certification processes so your engineers can focus on building for functionality.
Test Equipment Requirements
One big consideration with test equipment is power. Automated test system power infrastructure is very different from typical power setups. Because test systems consist of many internal components, they require more complex power systems to ensure each part gets the energy it needs and avoids critical problems. Some automated test system requirements and components include the following elements.
Electromagnetic Interference (EMI) Filters
Nearly every product, regardless of application or market, is required to comply to standardized EMC limitations. This limits the amount of electromagnetic noise the product can inject onto the local power line. Just as the components and functionalist of a complex test system vary widely, so too does the EMC noise generated. To ensure compliance to these regulations and to protect the ATE from any noise on the line, EMI Filters are included in the standard test equipment system architecture. EMI Filters should be located near the power input/output to the system. They are easily integrated into custom PDUs for streamlined system design.
PDUS
Each piece of equipment in a test system requires a certain amount of current at the right voltage level and may require various safety- or functionality-based controls. A test system needs to include a power distribution unit to ensure downstream equipment receive appropriate power. Power distribution units for test systems ensure sufficient energy flows to each component while also protecting equipment from surges, sequencing power provision, and more. A PDU's internal power outlets possess a current and a rated voltage, and they are compatible with both direct and alternating currents.
PDUs are integral parts of a testing system due to their ability, and custom solutions may include fully integrated primary and secondary power sources. When using a PDU — or any of the other elements listed here — it's essential to create a power layout. This arrangement ensures each part receives the electricity it needs. Bottlenecks created by a lack of power can stall an entire operation if the affected component is integral to the system. Working with an experienced custom PDU supplier such as Astrodyne TDI reduces risks like this as they partner with your engineers to provide a comprehensive design.
Uninterruptible Power Supply (UPS)
Testing can also be affected by power losses, brownouts and malfunctions during normal operations. The uninterruptible power supply protects against this. UPSs ensure critical components in the system get continuous energy when the power supply encounters a problem. For example, cooling, control and monitoring systems are crucial to maintaining function during brownouts, as failure can prevent quick recovery or damage equipment.
PDUs and UPSs work together to ensure a testing device receives the energy it requires without the risk of failure. When necessary, UPSs combined with power converters enable you to condition standard electricity to meet the system's needs. Ultimately, however, it may be easier to use ATE with a global input voltage to bypass the need for a power converter. Be sure to install and apply a UPS to such vital test equipment to keep your systems running as effectively and efficiently as they should.
Emergency Power OFF (EPO) Functionality
As the role of automated test equipment grows, safety control feature implementations take on new dimension as well. One ubiquitous feature, shared by nearly all modern test equipment is Emergency Power Off (EPO) functionality. EPO features simplify reactions to local emergency situations by directly inhibiting power switching and triggering shut down procedures.
Grounding
Grounding is another crucial aspect of automated test equipment requirements, both for safety and measurement quality. Grounding secures the safety of operators and equipment by ensuring that all system equipment has a proper path for current to flow to the ground. Quality grounding also includes assurances that electrical connections to the ground are direct, which minimizes the production of radio frequency emissions that can interfere with measurement equipment.
There are hundreds of ways to configure and arrange these test equipment parts and features, but they form a basis for any test system power infrastructure.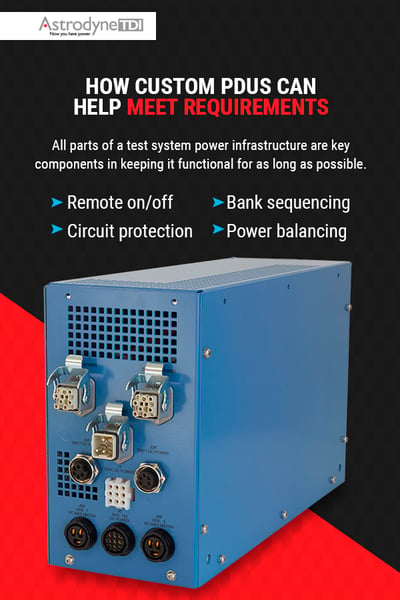 How Custom PDUs Can Help Meet Requirements
All parts of a test system power infrastructure are necessary to ensure full functionality and long-term reliability. However, one of the most critical and most customizable modules of a test system is the power distribution unit. What is a power distribution unit, and how does it hold such importance?
A PDU's primary function is to take input power signals and distribute them to components in the system to ensure each gets sufficient power to function properly. While this basic ability serves most power distribution unit applications, there are additional functions of power distributions for test equipment that can benefit ATE. Many of these are seen in components of custom PDUs.
Some of the features of PDUs for test systems include the following:
Remote on/off: Remote on/off is a function in custom PDUs that gives operators easy access to full control of the power system. The remote capabilities allow operators to change power states or use the EPO mechanism if an emergency arises.
Circuit protection: PDUs come with built-in circuit protection. This comes in the form of fuses, which can protect equipment from unexpected power surges. By protecting valuable and fragile equipment from these surges, operators can save thousands of dollars in repair and replacement expenses.
Bank sequencing: Bank sequencing capabilities ensure that equipment turns on in a specific order. For example, certain components may need to start first to allow other pieces of equipment to function normally. The PDU can be programmed to start these primary elements first in the power-on sequence.
Power balancing: One of the advantages of custom PDUs is the ability to have multiple banks that all handle a given amount of power. This characteristic allows engineers to balance power loading on the PDU, preventing overcurrent conditions that can potentially result in faulty tests or even damage system equipment.
When paired with a UPS to power critical components and an EMI filter to protect from noise in the power supply, PDUs provide excellent power infrastructure for test equipment, especially when customized to your device's specific needs.

Get Custom Solutions From Astrodyne TDI
There are many methods and configurations available for complex test equipment design. With so many options available, it can be challenging to determine the most effective approach. Along with the design itself, you also need to consider long-term factors, such as updating systems over time, maintaining custom solutions, and repairing or replacing damaged equipment.
One way to achieve quality results is to work closely with a vendor capable of integrating multiple subassemblies. By working with a single vendor with extensive experience in the field, your company can gain insights into options for test equipment design and leverage the company's expertise to design more streamlined and successful test setups. You can also make certain you're working with the best people to repair or replace damaged equipment, ensuring your test systems run for as long as possible.
If you're looking for a company that supports engineers and operators by offering quality power supply, EMI and PDU options for test equipment, Astrodyne TDI is here to help.
Astrodyne TDI designs and manufactures power supplies and EMI filters for a wide range of clients and markets. With more than 50 years of experience in the field, Astrodyne TDI can offer unique solutions for EMI filters and PDUs for automated test systems. We also specialize in custom solutions, enabling your company to experience all the benefits of custom PDUs.
If you're interested in a custom power distribution unit for test equipment or want to learn more about the applications of PDUs, contact Astrodyne TDI today.