RESOURCES
Making vs. Buying Power Supplies
---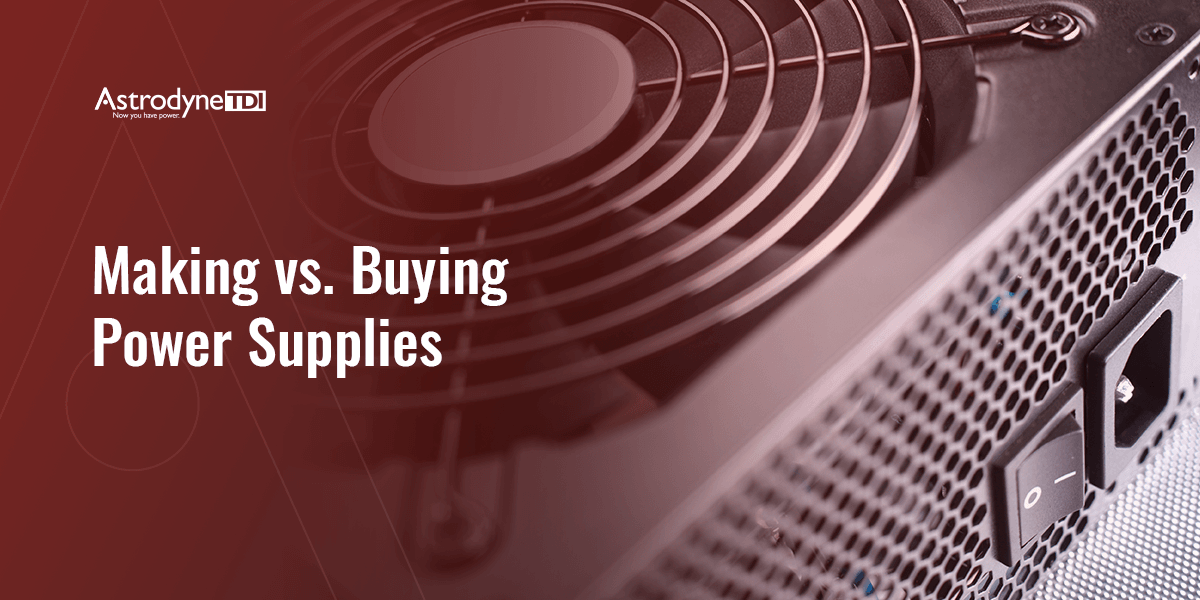 Deciding whether to purchase or make a power supply unit (PSU) can impact your overall power management subsystem cost, along with the final cost of the end-item system itself. The decision can also largely influence the time-to-market and reliability of the PSU. The immense impact that a PSU can have on operations makes choosing whether to make or buy power supplies crucial.
Below, discover the details of making and buying a power supply and how to decide which is the right choice for you. Find out what you should know before buying a PSU.
What to Know About Making Power Supplies
Making power supplies can be an appealing option to Original Equipment Manufacturer (OEM) design teams for the sake of driving down cost and size. In terms of the Bill of Materials (BOM), designing power supplies in-house could save you money, considering that a ready-made solution may cost hundreds of dollars more. If the end product is intended to be produced in high volumes, making power supplies in-house can be especially cost-effective.
When making power supplies, these are the typical steps an equipment manufacturer will follow:
Create a paper design.
Build a prototype.
Review the design.
Decide whether to go ahead with production.
Depending on the availability of design engineers, finalizing a design can take up to half a year. Once given the approval to proceed with constructing the design, the purchasing department will need to order all the components from qualified vendors. After the company receives the components and obtains any relevant safety agency approvals, production can begin.
Although making power supplies in-house can initially cut costs from the BOM, it can end up costing more due to increased design risk and extra development time. Making a power supply as small as possible is quite challenging and may demand expertise outside of the in-house team's capabilities, along with more expensive assembly procedures.
In particular, special equipment, such as high-quality electronic loads, may be required for testing the power supply. The design team will also need to know all applicable safety specifications and ensure compliance. In this way, structuring power supplies independently can get even more complicated and expensive than purchasing them.
The following considerations are important to account for before deciding to make a power supply:
Time-to-market for the end-item equipment
Overall budget
Acquiring and employing the proper safety components
Costs, fees and time required for getting agency certifications specific to power supplies
Whether competitors will gain an edge if they buy a technically superior standard PSU
Whether the time it takes to make a power supply will allow competitors that buy a power supply to pull ahead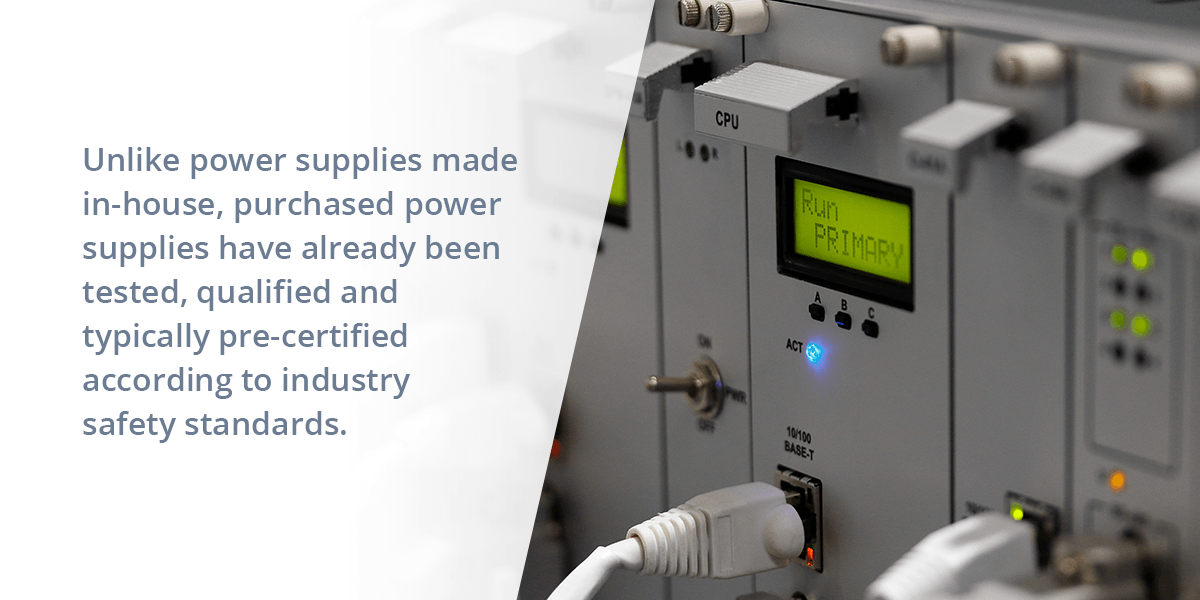 How Is Buying Power Supplies Different?
Unlike power supplies made in-house, purchased power supplies have already been tested, qualified and typically pre-certified according to industry safety standards. In this way, buying a power supply can expedite the process of obtaining a reliable, warrantied product, while reducing the overall cost.
When assessing the power supplies on the market, it is imperative to find one that provides the precise output voltage, current and power to meet your needs. This process will involve researching the characteristics of the available power supplies to understand which type would be best for your purposes. Because there is a wide range of standard power supply units available, you will need to narrow down the selection by eliminating any types of power supplies that do not meet your requirements.
If you are unable to find a standard PSU that functions the way you need it to, you will most likely need to purchase a custom-designed power supply. Although a custom power supply design may be more expensive than a standard unit, following a smooth and efficient design process that produces a dependable, certified power supply often pays off in the long run.
These are the steps to follow when buying a custom power supply:
Find a manufacturer certified to meet the relevant safety, reliability and EMC specifications.
Involve the power supply manufacturer in the earliest design phases to ensure they are included in all architectural, product and cooling discussions.
Finalize the design together and order the PSU.
Including the power supply manufacturer as early as possible in the design discussions is key to avoiding last-minute issues at the tail-end of production. Instead of remembering to involve a power supply manufacturer only once the project is almost complete, partnering with the manufacturer from the start will grant ample time to find one that meets your needs and expectations.
For an economical alternative to buying a custom power supply, consider choosing a modular PSU, which allows the builder to attach or detach parts as needed. You can tailor the specific parts of a modular power supply to your needs without experiencing the delays sometimes associated with a custom design.
Engineers will frequently purchase pre-designed power module solutions when performance, time-to-market, safety, reliability, certification and support are of utmost importance. Below are considerations to weigh before deciding to buy a power supply, whether it be pre-designed or custom:
Overall performance and reliability
Safety and certification requirements
Any time constraints
Long-term costs and whether a custom design would be worth the extra expense
Whether a pre-designed or custom power supply would provide a technical advantage over competitors
Power supply manufacturer credentials
How to Determine Whether You Should Make or Buy a Power Supply
Choosing between making or buying a power supply comes down to the specifics of your situation. Here are possible reasons for making a power supply in-house:
There is not enough room to install a commercial PSU.
Unique safety and EMC requirements that are not available in commercial units must be met.
The equipment needs to be proprietary.
Making the power supply may be more cost-effective without sacrificing performance quality.
You have access to both the proper test equipment and the expertise to do the job well.
There are no time constraints for finishing the power supply.
On the other hand, here are reasons for buying a power supply:
Time and efficiency are of the essence.
Outsourcing power supply manufacturing would cost less and result in a better product.
Your organization's expertise and core competencies are not within power electronics.
You do not have the proper background, training or test equipment to make a reliable PSU.
You are unsure how to attain the necessary safety and certification requirements.
If you are uncertain which category your situation falls under, ask yourself the following questions:
Is time-to-market a key consideration?
Would making a power supply cost you less money, time and energy than buying one?
Do you have the necessary resources for making a power supply available, including design and production facilities?
Can you cover the costs and fees of getting agency certifications specific to power supplies?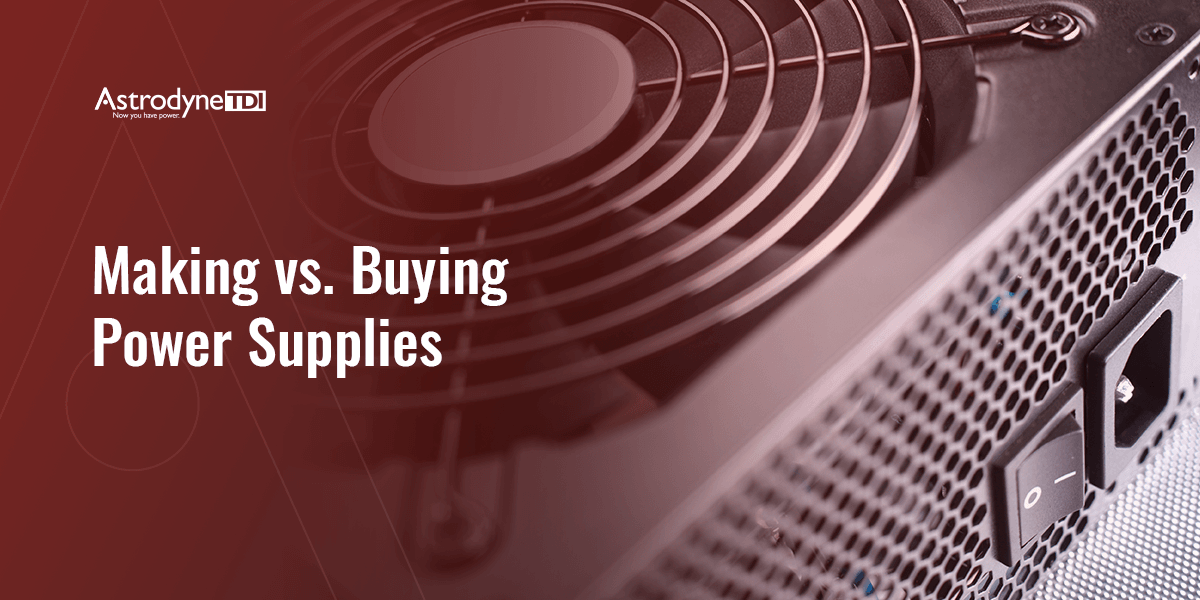 Consult Astrodyne TDI Before Buying a Power Supply Unit
If you are considering making or buying a power supply, let Astrodyne TDI make your choice easier. At Astrodyne TDI, we specialize in providing clients with customizable parts and reliable power supplies. We lend companies the technical support and industry expertise they need to select a power supply meeting their needs, even if that means developing a custom solution.
To ensure you get the right power supply unit for your operations, request a quote or contact Astrodyne TDI today.