RESOURCES
Power Supplies for Semiconductor Equipment
---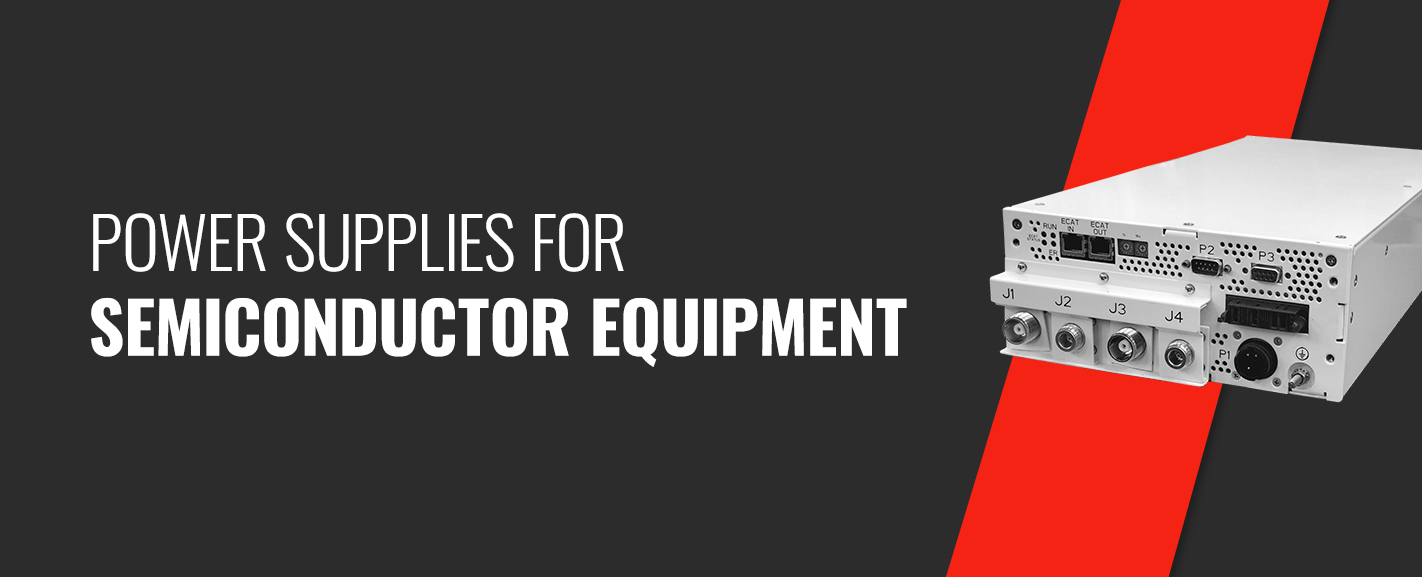 Semiconductor fabrication applications require dependable power solutions. Let's take a look at the semiconductor fabrication process, the capabilities a power supply unit needs and the industry compliance standards that apply to power supplies for semiconductor equipment.
A Look Into Semiconductor Fabrication Processes
Semiconductor device fabrication processes have several distinct and intricate steps. Astrodyne TDI's power supplies are essential for every task at the front end and back end of the semiconductor fabrication process:
Testing memory: Semiconductor device fabrication processes turn silicon into a thin wafer containing tiny circuits that enable memory functions. They then cut the wafer into individual chips known as dies. Every integrated circuit undergoes testing before wafer fabrication, and then the chips themselves undergo heat testing at high temperatures to ensure they can withstand industrial stresses. Power supplies provide the consistent power necessary for comprehensive testing to take place.
Storage testing: Similarly, semiconductor devices undergo storage testing during fabrication to ensure they can hold sufficient amounts of the correct information. Power supplies provide uninterrupted power for comprehensive evaluation.
Ion implantation: Ion implantation requires introducing ions of a particular element into a material to change or refine their properties. In semiconductor equipment fabrication, ion implantation, also known as semiconductor doping, generally involves ions of boron, phosphorus or arsenic. These ions, known as dopants, introduce impurities to modulate the device's electronic properties. A dependable power supply is critical for running the equipment required to create high-energy electron beams for successful ion implantation.
Etching: In semiconductor equipment fabrication, wet or dry etching transforms a thin film of material into the wiring and other essential components. Fabricators can coat the film with a photoresist and then project circuit patterns onto it. Etching then removes extraneous material, leaving only the intricate circuit patterns behind. Power supplies provide uninterrupted power for the etching equipment to ensure precision and accuracy.
Deposition: Deposition involves using evaporation or sputtering techniques to create the various metal layers that form electrical connections between cells. Maintaining the uniformity of the deposited material is essential for creating even layers, and power supplies supply the consistent electrical power needed for optimal results.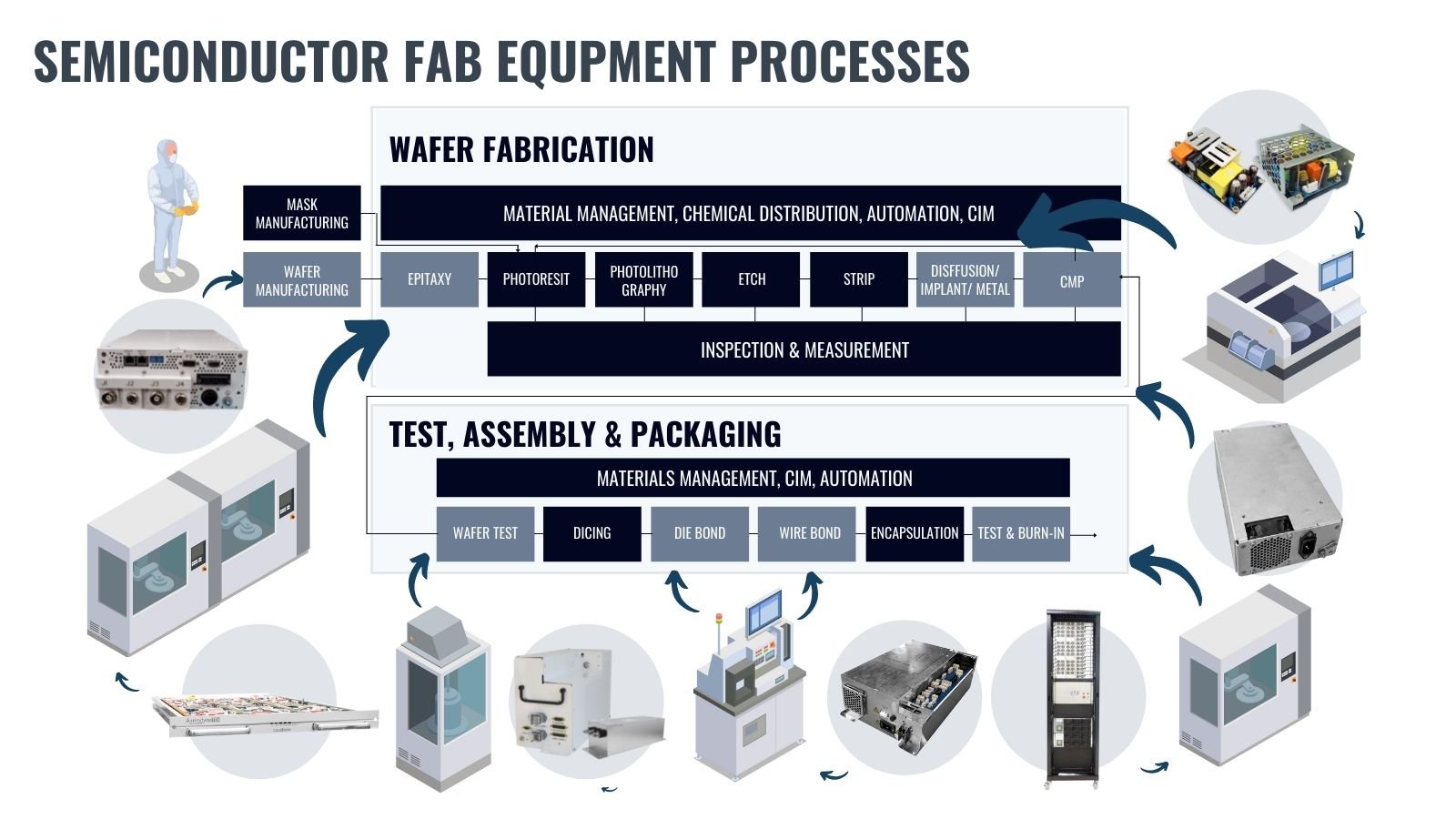 Choosing the Right Power Supplies for Your Needs
When you're selecting a power supply, you'll need to consider several important factors to ensure you get the right equipment for your needs. At Astrodyne TDI, our power supply units have the advanced capabilities to give you high performance, exceptional reliability and valuable diagnostic information:
Hold-up time: Power supplies have a certain amount of capacitance that provides about 20 milliseconds of power after a power loss. This hold-up time is the time from the loss of the alternating current (AC) to the time when the output voltage dips below 10% regulation of the maximum set point. The 20-millisecond interval of continued power is enough to keep running the equipment until a generator can switch on.
N+1 redundancy: In a modular power system designed with N+1 redundancy, 1 extra power supply is built into the system. If one of the power supplies fails, the remaining supplies can carry the load until the damaged unit is replaced.
Hotswap features: Hotswap features take advantage of that n+1 redundancy to enable part removal for repairs even while the system is still running. With n+1 redundancy, you can pull a power supply out, and the other units will continue to operate as usual. You won't need to turn off the AC input or experience downtime.
Postmortem reporting: Postmortem reporting helps you investigate how and why a failure occurred within the system. If the power supply unit breaks down, you can turn to the postmortem reports to diagnose the issue and determine how to correct it. A good power supply, like the models from Astrodyne TDI, issues warnings and alarms at the first sign that something in the system has gone amiss, and it logs adverse events as they occur. Being able to look at the logs and see that an issue with the grid caused your equipment failure, for instance, gives you valuable information about how to prepare for similar occurrences.
SEMI F47 Compliant Equipment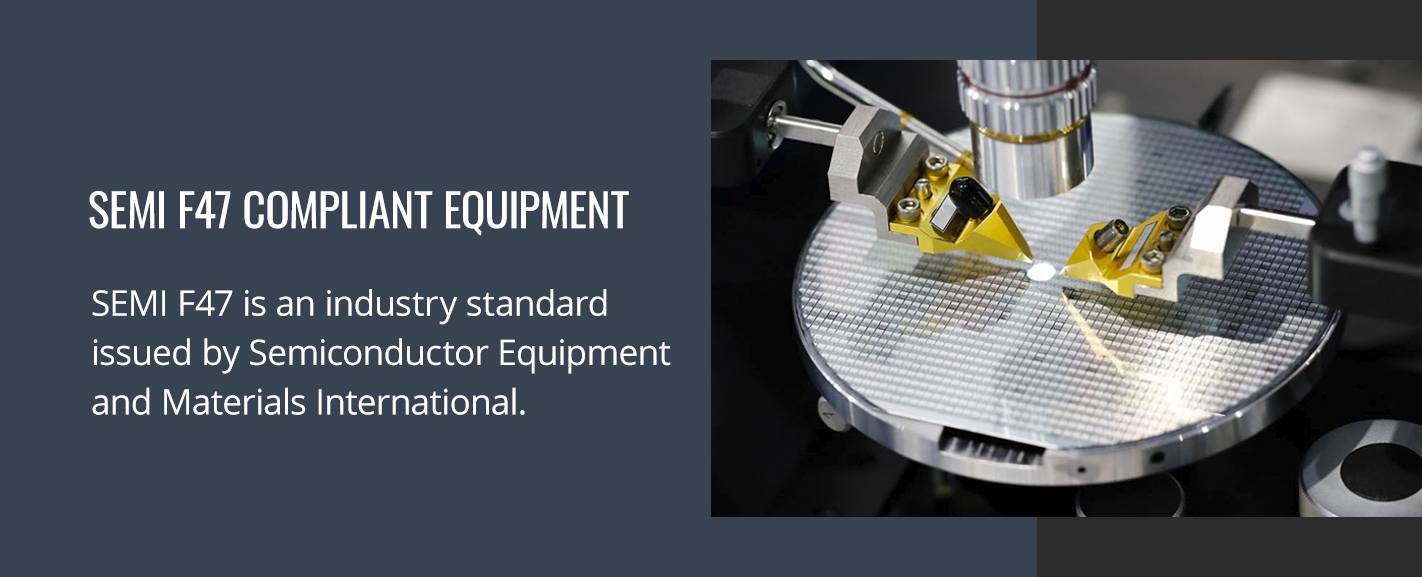 What is SEMI F47 compliance? SEMI F47 is an industry standard issued by Semiconductor Equipment and Materials International. It requires power supplies for semiconductor equipment to be immune to certain voltage sags that frequently occur on AC power lines. The standard's most recent version is SEMI F47-0706.
Performance Criteria
Specifically, SEMI F47 requires power supplies to meet one of two criteria:
Criterion (a): The unit performs at full rated operation, OR
Criterion (b): The unit does not perform at full rated operation, but it recovers operation without host controller or operator intervention. It must not send error signals to the host controller to indicate when it does not achieve full rated operation.
During a brownout, the power supply must provide full power at the rated output voltage under these conditions:
3.1.8.3.1. 160 VAC for durations up to 1,000 ms (equivalent to 80% of 200V line) — criteria (a) for all output conditions.
3.1.8.3.2. 140 VAC for durations up to 500 ms (equivalent to 70% of 200V line) — criteria (a) for all output conditions.
3.1.8.3.3. 100 VAC for durations up to 200 ms (equivalent to 50% of 200V line) — criteria (a).
EN61000-4-4 1995 electrical fast transient/burst — severity level 3.
EN61000-4-5 1995 surge — severity level 3.
Reliable power supplies are critical to reducing downtime and avoiding the productivity losses that can cost a company thousands of dollars. Compliance with SEMI F47 provides that reliability and helps minimize costly downtime.
Design Requirements
Conservative design margins help ensure a long operational life for the power supply. Below are some of the design requirements under SEMI F47:
Electrical design guidelines per NAVMAT P4855A and NAVSO P-3641A
Reliability prediction and a calculated mean time between failures (MTBF) target of greater than 275,000 hours
Design failure mode and effect analysis (DFMEA), including circuit analysis and stress analysis
Test Requirements
A comprehensive test plan ensures the shipment of quality products. SEMI F47 includes these test requirements:
First article physical configuration audit
Design verification testing
Highly accelerated life testing
Manufacturing test and data analysis
Production highly accelerated stress screening (to avoid early failures)
Fielded product reliability review
Reliable Power Supplies From Astrodyne TDI
When you need power supplies for semiconductor fabrication equipment, trust Astrodyne TDI for dependable solutions. Our power supplies offer superior performance and full compliance with SEMI F47. You'll gain peace of mind knowing you have the continuous power you need to run your equipment efficiently, ensure productivity and avoid downtime expenses.
On the semiconductor equipment market, our power supplies stand apart because of their quality and dependability. Our knowledgeable team also has the experience and industry insights to help you choose the right power supply. Our array of customization options mean you'll get the features and capabilities that best meet your operational needs.
Request a quote today, or contact us to purchase power supplies for semiconductor fabrication equipment.