RESOURCES
An Overview of Snap-In EMI Filters
---
Countless industries use devices that emit electromagnetic impulses (EMI), including everything from fluorescent bulbs to microwave ovens to computers. Any excess EMI generation from these appliances can result in electrical noise that can interfere with and could even damage electronic devices.
Snap-in EMI filters are designed to remove unwanted noise and prevent it from interrupting the operation of electronic equipment or entering onto the power line. These filters utilize a network of capacitors and inductors that inhibit the EMI current and reduce total voltage. They are built with metal clips that adhere to a metal shell and secure the necessary filters in place, including International Electrotechnical Commission (IEC) inlets and power entry module EMI filters. These efficient filters come with many convenient mounting options and are optimized for numerous applications.
Discover the many benefits and functions of snap-in EMI filters and learn how to protect your electronic devices from noise interference.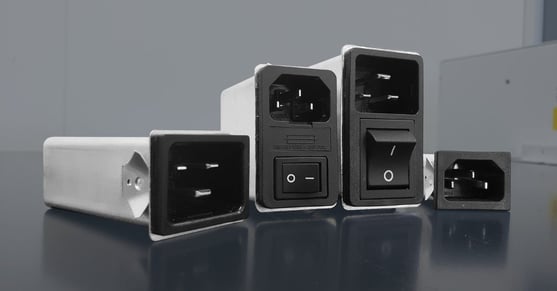 Benefits of Snap-In EMI Filters
Snap-in EMI filters have proven to be effective in EMI suppression, providing a comprehensive way of removing unwanted noise from electronic devices.
The many benefits of EMI filters include:
Meet EMC Compliance: EMI filters protect against noise and eliminate noise from both internal and external sources to ensure that electronic equipment can meet electromagnetic compatibility.
Simplify equipment assembly: Snap-in EMI filters make it easier to implement EMI suppression with convenient clip-on capabilities.
Reduce product assembly time: Because Snap-on filters are so easy to install, they ultimately shorten product assembly times.
Improve lead times: Snap-on filters boost lead times due to their enhanced efficiency.
Save money: Clip-on EMI filters are highly efficient — and with more efficient production comes increased cost savings.
Streamline testing: Because Snap-on EMI filters have simple installation and removal features, they're excellent for testing purposes.
Applications for Snap-In Filters
Snap-in EMI filters are used to suppress noise in electronic equipment across a variety of industries. While these filters suit practically any electrical application, they are particularly popular for automation equipment and test and measurement systems. EMI filters are also commonly used in health and IT fields and are even available in low leakage options for medical applications.
Here are some of the many uses for snap-in EMI filters:
Household appliances
Rack-mounted equipment
Portable electronics
Test and lab equipment
Medical equipment
Mounting Options
Part of what makes Snap-on filters so convenient is their many mounting capabilities. With so many diverse installation possibilities, implementing EMI filters is both fast and painless. Snap-on EMI filters come with these versatile mounting options:
PCB
Panel screw
Panel snap-fit
Bulkhead/end mount
Clamp-on cable
Flange
Get Your Snap-In EMI Filters at Astrodyne TDI
If you're looking to optimize product assembly and increase lead times, choose Astrodyne TDI's snap-on EMI filters. For over 60 years, we've carried highly reliable products that meet the expectations of even the most demanding industries — from industrial to medical to consumer appliances and more. We offer free pre-compliance testing and EMI filter samples for your convenience as well as unique customization options you can't find anywhere else.
Contact us to get in touch with one of our experts today!