RESOURCES
Supporting our Military/Aerospace
---
Astrodyne TDI's sMV-2-500 all-in-one high reliability brock supports an Alternative Energy Storage and Distribution System for our warfighters.
Astrodyne TDI's Military/Aerospace, high reliability modules are regularly used by product developers who design innovative, complex power systems used in thermally and shock vibration challenged environments. Recently, our sMC-28-500, all-in-one AC/AC modules were incorporated into an Alternative Energy Storage and Distribution System for our warfighters. The AESaDS is basically a portable hybrid voltaic/battery power system used for power storage and distribution in the field.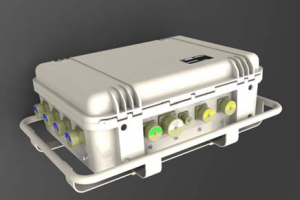 The war in Iraq and Afghanistan has taught us that transporting fossil fuels on the battlefield and particularly to remote locations is both dangerous and cost prohibitive. The AESaDS uses an alternative energy source like solar and other renewable sources to provide our warfighters with reliable power in the field and reduces the fuel uses otherwise needed for typical generators. It will lessen the need for fuel resupply, reducing the associated threats to vehicle convoys in theatre.
Three of our sMV-28-500 are fed by a 3ɸ input and produce 1500W of 28Vdc from paralleled modules. This approach also has the added benefit of balancing the power draw from each ɸ.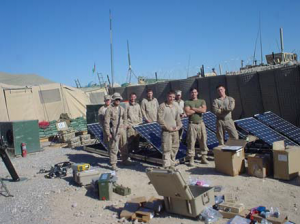 Each stackable 1600W solar array and rechargeable batteries combine to provide 300W of continuous electricity for soldiers on the battlefield and in remote locations. Any excess collected energy is stored in an array of specially designed high-density batteries for use when an alternative energy source is not available. AESaDS will reduce the logistics burden for providing power to remote locations and provide the AC and D power to charge typical communication, targeting and computing devices.
During its development phase, AESaDS underwent continuous power testing at thermally challenging ambient temperatures in excess of 116 degrees Fahrenheit. Even under those extreme temperatures, the system provided 85% of the rated energy and its performance exceeded expectations. AESaDS can be rapidly deployed and is transportable in the shock and vibration challenged environment associated with the High Mobility Multipurpose Wheeled Vehicle (HMMWV) among others.
The system provides AC and DC power thereby reducing the need to provide fossil fuel powered generators in the field. AESaDS protects lives by diminishing the threats brought on by the need for fuel resupply to vehicle convoys in combat theatres. As a result of these important benefits and due to the fact that it can be employed for a wide variety of uses, it has been fast tracked and successfully fielded in Afghanistan.