RESOURCES
Taking the Next Steps in Your New EMC Engineering Career
---
The journey of a lifetime in electromagnetic compatibility (EMC) engineering begins with a single step — creating a plan for success. Developing a game plan for your new EMC engineering career can help you move toward your goal one step at a time. Not many individuals choose to become EMC engineers, but once in the field, it becomes exciting to solve EMC challenges, and having a plan of action can allow your new career to flourish.
Some steps you can add to your plan to become successful in your new EMC engineering career can include continuous learning, maintaining a proactive mindset and networking in the engineering community. Yet, the most important step according to many Astrodyne TDI EMC engineers is having a mentor. Having a mentor in the EMC industry can help you in every part of your career, and the Astrodyne TDI team highly recommends it.
Know Your Rules
As a subdivision of electrical engineering, the EMC specialization doesn't often have specific classes in college. There you can develop a complete understanding of the theories involved in EMC, but to expand on the knowledge gained through a higher education experience, it's critical to develop a self-training program. A great self-training program can include books, magazines, specialized courses and regulatory documents.
In this step, we recommend that you ask your mentor, a superior or colleague, for specific recommendations. If they have been in the industry for many years, odds are that they can recommend a resource or two that is specific to the EMC challenge being solved. Knowledge of an EMC technician's complex rules and regulations can impress employers and help you build connections, but putting those theories into practice allows you to develop a fundamental knowledge of real-time variables.
In other words, you should study to become a walking encyclopedia of engineering knowledge, but participating in design projects allows you to gain the real-world experience that will put your EMC career on the right path. Beyond understanding the general principles and putting them into practice, becoming familiar with EMC testing facilities and their capabilities can allow you to provide recommendations when required.
Develop a Proactive Mindset
In EMC engineering, you should address every potential issue today. It's important to follow the development path of the products in your company and stay engaged with the team involved. In this step, you can leverage the relationship with your mentor — don't be afraid to approach him or her and ask questions that will help you to solve your team's challenges. At Astrodyne TDI, the senior, more experienced members of the EMC engineering team are always happy to help and guide our entry and junior-level engineers.
One major challenge that we face in the EMC industry is that product managers will often realize there's an EMC-related issue at the end of the product development cycle. Then, they'll request a new feature to fix the product when it's too late, like shielding. If involved in the product design early, it is crucial to maintain an open flow of communication to prevent a problem rather than reacting once it's a serious issue.
Network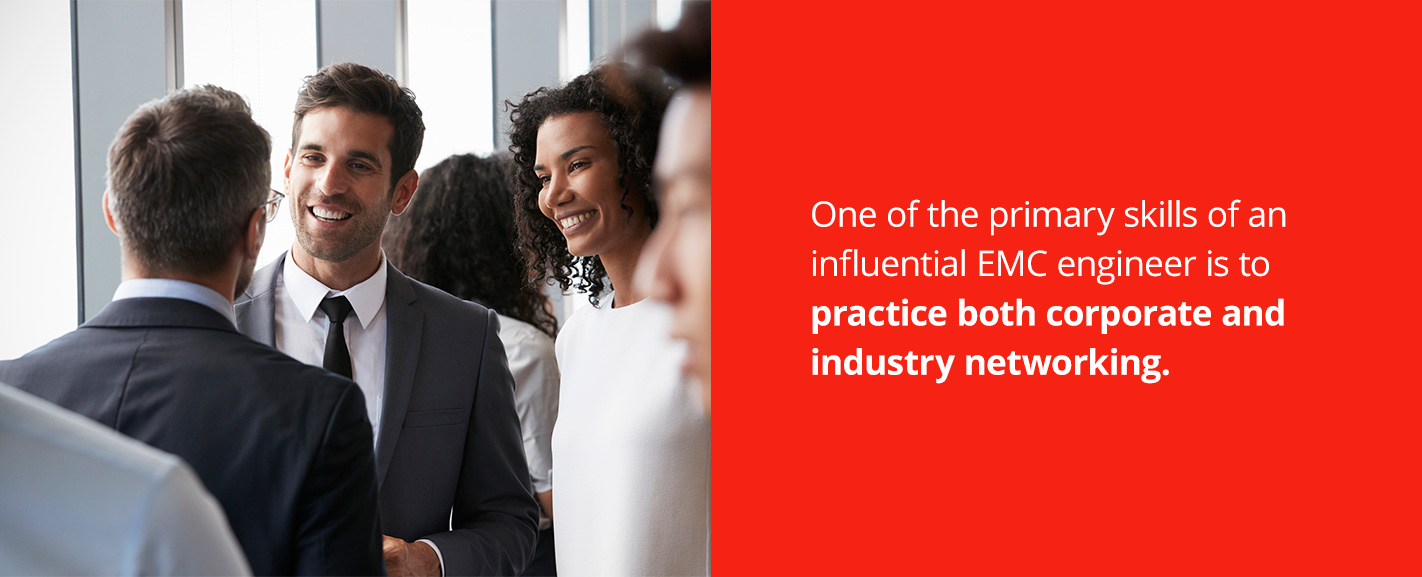 One of the primary skills of an influential EMC engineer is to practice both corporate and industry networking. You need to connect with your colleagues or partners on various product design teams to understand the EMC needs on a project at the right time. For example, some EMC engineers may request that a member from each development team serve as an EMC liaison. This representative brings any current or potential EMC issues to the engineer. Making sure you are fostering a relationship with the EMC liaison can simplify communication.
In addition to fostering and nurturing great relationships with your coworkers and partners, it is beneficial to connect and network with industry experts outside of the organization you work in. Staying connected with industry experts can allow you to learn about new technologies and tactics. You can utilize social media platforms such as LinkedIn and Reddit to connect and stay on top of industry trends.
Get Involved in the Community
EMC engineering is a vital skill at many companies, so there's a rich community to join. The Institute of Electrical and Electronics Engineers (IEEE) EMC Society has chapters around the world that form a tight-knit community. It's also common for older professionals to mentor younger members, since mentors often pass EMC engineering skills onto the next generation. You can attend the Society's annual symposiums to network and gain knowledge.
Connect Your Next Career Move With Astrodyne TDI
Interested in EMC engineering career opportunities and networking? Astrodyne TDI is a global designer and manufacturer of cutting-edge power and EMI filter solutions for high-demand applications. Fill out our quick contact form online to speak with a member of the Astrodyne TDI team and learn more today.