RESOURCES
Semiconductor Chamber Front End Power Infographic
---
Unveiling the Power of Semiconductor Chamber Front End
Front-end semiconductor manufacturing refers to transforming a blank wafer into a fully functional and completed wafer, ready for use in electronic devices.
Front-end semiconductor manufacturing serves various purposes in the creation of semiconductor chips. It involves different stages, such as deposition, where metals, dielectrics, and ALD (Atomic Layer Deposition) are applied to the wafer's surface. Then comes the shaping phase, which includes etching, planarization, and selective removal to achieve the desired structure. The next step is modification, which encompasses procedures like implantation, thermal treatments, and other processes to enhance the performance of the wafer. Lastly, there is the critical inspection stage, where optical, defect review, and beam techniques are utilized to analyze the quality and integrity of the wafer thoroughly.
Front-end semiconductor manufacturing relies on advanced technology to ensure accurate and precise results. Voltage and current precision are crucial factors that demand careful control and communication. This process's power and filter systems must exhibit reliability and high performance without compromising cost-efficiency. A critical aspect is achieving Copy Exactly (CE!) standards, ensuring consistency and reproducibility. Integration of power, RF, EMI filters, and PDU (Power Distribution Unit) is also essential for streamlined operations and optimal functionality.
Tailor-Made DC Power Distribution Solution
Experience the convenience and efficiency of our state-of-the-art Custom DC Power Distribution Unit. The ATDI multi-output power distribution units are designed to cater to your specific needs, with multiple configurations available. Whether you prefer the Common DC Bus or Discrete DC Bus setup, our unit supports the consolidation of power distribution for multiple chambers, streamlining your operations.
With a nominal input of 208VAC, our Custom DC Power Distribution Unit delivers up to 2,084W, providing a dual reliable output of +24VDC and +/-15VDC, giving you the power you need to keep your equipment running smoothly. Designed with efficiency in mind, our robust, highly reliable DC Power Distribution Unit is built to last. From the quick turnaround of samples in just six weeks to pilot units and mass production deliveries, we ensure a seamless process and competitive lead time. Please trust our expertise and let us give you a Power Distribution solution tailored to your needs.

Revolutionary RF "Blocking" Filters
Collaborate with customers to design and customize the mechanical specifications, optimizing the process with ATDI's engineering expertise. These filters are strategically installed between AC or DC power supply input/output hardware, such as E-chucks, thermocouples, heaters, etc. Their purpose is to prevent the escape of operational frequencies (13.56MHz, 27.12MHz, 40MHz, etc.) from the chamber. ATDI ensures that the filters are precisely calibrated during development and production, ensuring high impedance at the fundamental frequency. They effectively capture and contain the RF energy generated in the plasma, minimizing any disruption to the power supply caused by RF energy.

Cutting-Edge Multi-Channel Pedestal Heating
Experience the cutting-edge innovation of our Multi-Channel Pedestal Heating system, designed to provide fully isolated and independent DC outputs. Derived from the renowned Mercury Flex technology, this advanced heating solution operates on a 220VAC/3-ph input, ensuring efficient and reliable performance. Our system guarantees optimal energy utilization with a power factor greater than 0.9.
Equipped with CV/CI/CP control and a high-speed EtherCAT control interface, our Multi-Channel Pedestal Heating system offers unparalleled precision and control. With a remarkable 0.1% delivered power and readback accuracy, you can trust that your heating needs will be met with utmost accuracy. Our proprietary heater resistance measurement circuitry further enhances the precision and reliability of our system.

The Multi-Channel Pedestal Heating system, designed with scalability and modularity, supports easy in-field maintenance, offering flexibility and convenience. Constant Power Control eliminates external PID control, allowing for lower-precision pyrometers. The fast internal control loop speed ensures reduced over/undershoot and faster system control. Additionally, the system constantly adjusts voltage and current under all element resistances, ensuring improved precision even at low power. With this innovative heating solution, you can experience enhanced efficiency and performance in your operations.
Electrostatic Chuck Power Supplies
Experience the power of up to 4 channels with reversible polarity, bringing unparalleled flexibility. Our cutting-edge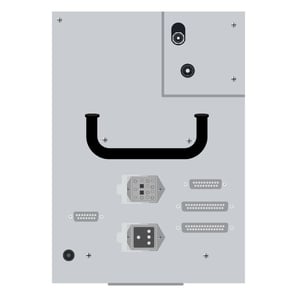 modular design effortlessly adapts to multiple configurations, allowing you to customize your setup according to your needs. With an input of 208VAC, our power supplies deliver an adjustable output ranging up to 2500VDC. Current options - up to 350mA - to suit your requirements perfectly. The option of an integrated RF filter sets our power supplies apart. This innovative feature ensures that frequencies such as 350Khz, 13.56 Mhz, 27.12Mhz, and 40MHz are effectively filtered out, preventing disruptive interference. Whether you prefer analog or EtherCAT controls, our power supplies support seamless communication with your preferred system.