RESOURCES
Astrodyne TDI Expands Manufacturing with New Facility in Malaysia
---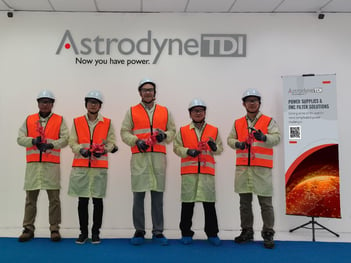 Hackettstown, NJ – May 2023 – Astrodyne TDI, a global developer, and manufacturer of power conversion and EMC solutions, opens a new manufacturing location in Penang, Malaysia. This new facility was incorporated on February 15th, 2023, and marks a significant step forward, demonstrating the company's dedication to growth and innovation in the power electronics industry.
Astrodyne TDI's decision to open a new manufacturing facility in Malaysia is a strategic move that underscores its commitment to expanding its reach and making a positive impact in the industry. This new facility is a significant step for the company, as it allows Astrodyne TDI to increase its production capacity and improve its assurance of supply, ensuring that it can continue to provide high-quality products and services to customers around the world. Moreover, with a focus on innovation and growth, Astrodyne TDI is poised to bring about exciting developments in the power electronics industry through this new facility, further consolidating its position as a global leader in the sector.
The forthcoming plans for Astrodyne TDI's expansion are nothing short of exciting. With a growing management team and factory renovation slated to begin in May of 2023, the company is on track to begin a new product introduction by the summer of the same year. This new facility will be equipped with state-of-the-art test equipment and highly accelerated stress screening capabilities. It will be certified to ISO & TUV/UL standards, ensuring that Astrodyne TDI continues to produce reliable products and services that exceed our customers' demand expectations.
With the increased capacity and resources of the new facility, Astrodyne TDI is poised to make even greater contributions to the industry and build on its reputation as a global leader in power electronics. Astrodyne TDI plans to build its most challenging and technologically advanced power and filter solutions in the factory, utilizing the highly skilled and talented employees in the Penang area. Finally, this facility will support the next four years of rapid growth the company anticipates.
For further information regarding Astrodyne TDI Sdn. Bhd., Malaysia, you can reach out to Ronald Gan, Program Management & Business Development.
Get our updates: https://www.linkedin.com/company/astrodyne
Access our blog: https://www.astrodynetdi.com/news
About Astrodyne TDI
Astrodyne TDI designs and manufactures innovative power solutions for demanding applications worldwide. The company's products include power supplies and EMI filters for industrial, semiconductor manufacturing, medical, consumer appliance, military, and aerospace markets. With over 60 years of power supply design experience, Astrodyne TDI is headquartered in Hackettstown, NJ, and has engineering and manufacturing centers in the USA and China. For more information, visit www.AstrodyneTDI.com.