RESOURCES
Astrodyne TDI Summer Internship Class 2023
---
The Astrodyne TDI summer internship has continued to impact the power electronics industry significantly, solidifying the company's reputation as a leader in fostering the success of future engineers. With an unwavering commitment to providing the necessary tools and resources, Astrodyne TDI has cultivated an environment that enables all employees, including interns, to thrive through the active engagement of critical thinking and collaboration.
At Astrodyne TDI, interns are not just mere observers but valuable contributors to the company's mission. By encouraging interns to participate in projects and tasks actively, the company ensures they gain practical knowledge and experience that will be invaluable in their future careers. The collaborative nature of the work environment allows interns to work alongside experienced professionals, learning from their expertise and gaining insights into the complexities of the power electronics industry.
The emphasis on critical thinking at Astrodyne TDI is a crucial factor in the success of the internship program. Interns are encouraged to analyze problems from various perspectives, develop innovative solutions, and contribute unique insights. This fosters a culture of intellectual curiosity and creativity, essential for driving innovation and pushing the boundaries of what is possible in power electronics.
Furthermore, the emphasis on collaboration ensures that interns are not working in isolation but are part of a team that values their contributions. By engaging in cross-functional projects and working closely with professionals from different departments, interns gain a holistic understanding of the entire supply chain process. This exposure to different perspectives and areas of expertise enhances their ability to collaborate effectively and work towards shared goals.
Discover the first-hand experiences of our 2023 Summer Interns at Astrodyne TDI and gain valuable insights into their unique journeys.
Max Schabel, Supply Chain Intern
I am incredibly thankful to Astrodyne TDI for the opportunity to expand my knowledge and experience in the supply chain intern role this summer. I am very grateful to Chris, Dan, Nidia, and Josue for being so helpful and breaking down the endless complexities that make up the company's supply chain. A few notable skills I have learned include purchasing materials based on forecasted demand, communicating with suppliers to ensure successful deliveries, and keeping an Enterprise Resource Planning (ERP) database up to date.
From these daily tasks, I have gained a deeper understanding of supply chain workings and honed professional skills that I will carry into my career. Three notable skills that have stood out as extremely valuable in managing a successful supply chain include collaboration, organization, and timeliness. Every facet must work together and share clear, understandable goals for a supply chain to save time and money. Some of my most incredible learning experiences this summer occurred during production planning meetings. It was eye-opening to observe how these accomplished purchasing and engineering professionals communicated with one another to align their goals interdepartmental.
"It showed me that a successful company like Astrodyne TDI relies on employees at all levels being passionate about their work and coworkers."
Ryan Betz, Mechanical Engineer Intern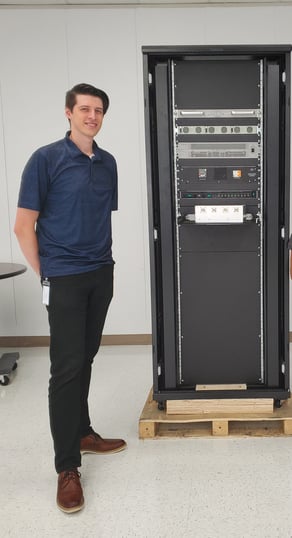 During my internship at Astrodyne TDI, I gained valuable experience across various projects and acquired skills that significantly influenced my professional growth. A highlight of this experience was collaborating closely with the Systems Engineering department to develop an LED analyzer test fixture. This fixture is essential for verifying calibration specifications provided by customers for commissioned products. In this team, my role was to design the physical framework for mounting fiberoptic LED analyzers. This project was engaging due to the need to account for tolerance and ensure adjustable sensors in all directions. Ultimately, this experience allowed me to collaborate within an interdisciplinary team and design with precision.
Another significant project was creating a display server cabinet for the Semicon West 2023 Tradeshow. This project underscored the significance of merging functional and practical design with aesthetics and quality. The unit was designed to showcase various rack-mounted and benchtop products at the tradeshow. Its success was evident as the unit found a place in the office's entrance foyer, highlighting the real-world impact of the projects I contributed to.
Throughout these projects, my proficiency in learning and utilizing Creo Parametric for modeling parts and assembly management played a pivotal role. While this software was new to me, my coworkers' assistance enabled me to quickly grasp the basics and leverage the software effectively in the design process.
Astrodyne TDI's collaborative atmosphere was pivotal in my development. Colleagues provided constructive feedback, and seamless teamwork across disciplines enhanced my adaptability and interpersonal skills. "This internship deepened my understanding of high-power electronics, encompassing the complexities of AC power supplies, rectifiers, and power distribution units."
On a personal note, this experience has been transformative, offering me an opportunity to learn and engage in a professional setting actively. I share this summary for aspiring interns and potential colleagues to emphasize the enriching nature of working at Astrodyne TDI as a Mechanical Engineering Intern. It's an immersive journey that cultivates technical aptitude while nurturing the collaborative spirit essential for success in the dynamic realm of engineering and innovation.
Gavin Cabida, Electrical Engineer Intern
As an electrical engineering intern at Astrodyne TDI, I was exposed to a wealth of knowledge that will propel me further in my engineering career. The dynamic environment exposed me to various projects, from designing systems for industrial applications to troubleshooting and testing electrical equipment.
One of the most valuable lessons I learned was the importance of safety in electrical engineering. All the engineers and technicians emphasized the significance of adhering to safety protocols while handling potentially hazardous equipment. My boss always clarified that safety was always the number one priority. This experience instilled a strong sense of responsibility and vigilance, shaping my commitment to ensuring safety in all aspects of my work.
Some projects I worked on were a lifetime load for a 48-kilowatt power system, a multi-channel power supply with multiple shelves and units, and testing various power supplies to ensure they were within specifications. This involved pushing power supplies to their limits and in non-ideal environments. I learned how to work with high voltages and its associated dangers. Learning proper lab procedures was also an integral part of my education. I learned how to take data measurements effectively and process large amounts of data points.
"In conclusion, my electrical engineering internship at Astrodyne TDI was an enriching experience that provided me with practical skills, professional growth, and a deep appreciation for the importance of power supply systems." The lessons I learned here have laid a solid foundation for my future in this industry.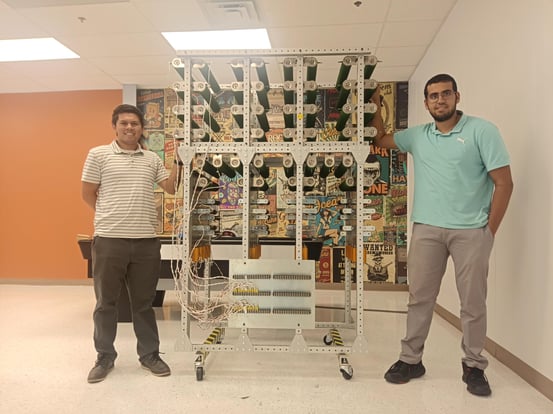 Ahmed Fouad, Electrical Engineer Intern
At school, there are a lot of small details that we were told to ignore in our electronics classes. But at Astrodyne TDI, those minor details are most important. Working hands-on with the engineers and techs, I gained much experience working with high-voltage equipment, designing and constructing loads, and using proper procedures and equipment for thorough testing. Through interactions and mentorship, I learned much about analog and digital control, non-ideal behaviors, electrical components, power conversion, PCB layout, and more. During the beginning of summer, I got to assist some of the engineers with their daily work, including testing and troubleshooting some existing products. As time went on, I started working on projects myself. Some of my most notable projects involved constructing and redesigning a huge load that was meant to dissipate 48kW of energy, stress, and thermal testing power boards in various configurations by designing and running multiple experiments, attempting to troubleshoot and diagnose control PCBs that failed testing by comparing the expected schematic behavior to the actual behavior seen, and much more.
"Throughout this experience, I'm getting to know and learn from some experienced individuals who have helped me develop a more thorough knowledge of electrical engineering." My time here has allowed me to understand better electrical engineering concepts and the real impact of Ohm's law on our field.
Maxwell Mullen, Mechanical Engineer Intern
My internship at Astrodyne TDI has been an extraordinary experience that sets this company apart from others. From the moment I started until the very end, I was treated with respect and professionalism by my team and colleagues. Unlike the typical intern tasks that often feel unfulfilling, I was given meaningful and relevant work that allowed me to grow as an employee. My responsibilities expanded daily, and my team consistently challenged me with new assignments, even though I had never encountered anything like them. Despite the unfamiliarity, they patiently guided me through learning and adapting. The environment at Astrodyne TDI, created by the people who work here, made my internship truly memorable. The level of composure, willingness to help, and camaraderie displayed by everyone I encountered exceeded my expectations. I want to thank my manager, Andrew Kropilak, and my colleague, Joshua Heinrich, for their dedicated mentorship throughout the summer. I also want to thank the others who made this experience possible and exceptional.
"My time at ATDI has allowed me to learn and grow as an engineer while collaborating with incredibly talented individuals."