RESOURCES
Combating Supply Chain Disruptions
---
The electronics industry is experiencing an unprecedented surge in demand that is constraining supply in a variety of commodities and component types. Many component suppliers are entering into a global allocation state due to this significant demand increase and foundry capacity limitations. Multiple commodity categories are now in long lead-time situations and many suppliers are struggling to keep up with demand due to un-forecasted upsides driven by automotive and 5G demand.
These challenges have been especially difficult for the electronics industry, given its complex supply chains. Our production has become vulnerable to disruption due to the shortages of electronic components, such as semiconductors, circuit breakers, capacitors, and metal. These shortages have created abrupt price increases from suppliers. Astrodyne TDI has been and will continue to work diligently with our procurement and logistics teams to mitigate the current supply chain landscape.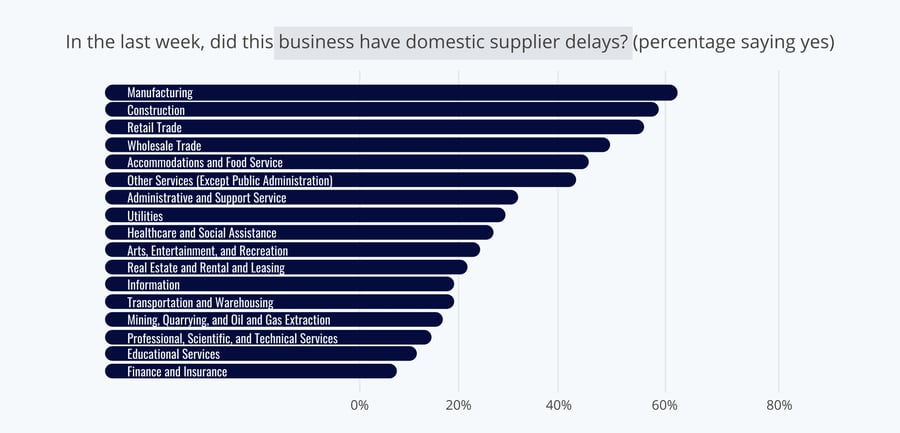 Source: US Census Bureau; CEA Calculations
Supply Chain Challenges: What we have seen…
Supply chain challenges include supplier factory floor capacity limitations, transportation delays, increased demands, and cost increases. The full effects have yet to be realized in this potent global event.
Continued congestion at major seaports, such as Los Angeles, due to COVID-19 and a shortage of shipping containers, has dramatically contributed to delays. The delays are creating a ripple along the entire supply chain from procurement of parts to delivery of finished goods. Our supplier delays, due to the shortage of materials in the entire worldwide supply chain have created additional disruptions.
Overcoming Supply Chain Management Challenges
Managing these challenges through these uncertain times means building resiliency in systems, nurturing confidence between vendors and customers, and fortifying agile decision-making processes that can respond to changing events in real-time. We are expanding our global diversity and partnering up with our supply chain to ensure we have a robust contingency plan to account for the current landscape.
Key steps that have allowed Astrodyne TDI to maintain improved lead times include:
Ensuring that we have qualified second sources for long lead time materials and providing accurate forecasts for our suppliers to better prepare and meet internal demand.

Optimized transportation and logistics to secure end-to-end real-time visibility of our carriers.

Consolidate and leverage international shipments to expedite materials through the process, from pickup through delivery.

Transparency with our customers to ensure that forecasting and planning are clearly communicated. Working with our customers to leverage shared supply chain lines and develop creative solutions to overcome each unique challenge.

Enhancing and optimizing our existing processes to boost productivity, capacity, and minimize waste. This will ensure that we are bolstered against material shortages or delays.

Adjusting our planning to purchase material for running production earlier based on customer demand and forecast.
3-Steps to Ensure Supply in an Uncertain World
Astrodyne TDI understands supply chain challenges can negatively impact our customers, and we want our partners to know that we are working to resolve the situation as quickly as possible. In addition, we are passing through only a portion of the full impact of the cost increase. To partner with Astrodyne TDI in weathering the global supply chain crisis, we ask that our customers embrace a few steps.
Open communication channels with the customer service, sales, and program management teams. Understanding the customers' needs and forecasts is critical to meeting their expectations.
Be open to developing or increasing the safety stock levels kept onsite. Additionally, updating the lead times to accurately reflect realistic delivery dates. Placing orders in advance helps both, our customers and our team internally to develop a better plan.
Finally, explore our catalog for alternative parts that are in stock. These may have different terminations or form factors that can be utilized in the same application.
These steps will allow us to prepare a detailed plan to meet your unique requirements and expectations. For more information regarding Astrodyne TDI's lead times and supply chain management plan, please contact our team today at www.astrodynetdi.com/contact-us.