RESOURCES
Astrodyne TDI Proudly Announces the Grand Opening of their Cutting-Edge Manufacturing Facility in Malaysia
---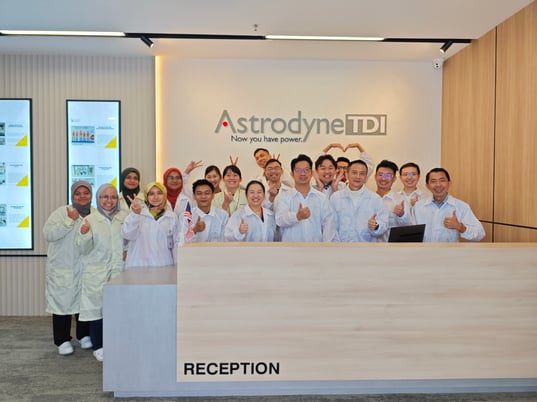 Hackettstown, NJ – Astrodyne TDI, a technology leader in power electronics, power distribution units, and EMI filters, is pleased to announce the opening of our new state-of-the-art manufacturing facility in Penang, Malaysia. This exciting development marks a significant milestone in our company's growth and commitment to serving our customers with leading-edge manufacturing capabilities.
Affirming our dedication to delivering high-quality products and services to our valued customers worldwide, the new factory boasts 32,000 square feet of initial production space with a committed expansion to 75,000 square feet in 2024. Equipped with the latest cutting-edge technology and automation, including three-dimensional automated optical inspection, our new facility is positioned to meet the growing demands of our customers and the market.
Critical Features of our Malaysia Factory:
Showcasing the latest generation automation, testing, and inspection technologies, the Malaysia facility provides the highest standards of consistency and efficiency.
This capacity investment along with our existing facilities supports ATDI's growth objectives through 2028.
In alignment with our existing manufacturing footprint, our new facility will maintain rigorous quality control measures as well as be qualified to all relevant industry standards.
Consistent processes and equipment allow for the seamless transfer of production activities across our United States, China, and Malaysia facilities, facilitating rapid new product introduction and redundant manufacturing capability.
Astrodyne TDI is committed to sustainability and environmental responsibility. Our new factory is designed with eco-friendly features to minimize our environmental footprint.
The strategic location of our Malaysia factory allows for efficient distribution, reducing lead times and supporting timely deliveries and responses to our customers.
Key Manufacturing Updates:
Construction is complete and critical production and automated test equipment have been set up and commissioned.
UL and ISO 9001 certifications are completed.
Initial manufacturing samples have been qualified by customers and full production volumes commence this month.
Astrodyne TDI's CEO, Chris Viola, commented, "The opening of our Malaysia factory will add more than $100 million in revenue capacity. The development of this new site in less than one year is a testament to our team's skill, commitment, and innovation in the service of our customers."
For more information about Astrodyne TDI and our new Malaysia factory, please visit our website at www.astrodynetdi.com or contact Jason Gildea at jason.gildea@astrodynetdi.com.
Astrodyne TDI
About Astrodyne TDI: Astrodyne TDI designs and manufactures innovative power electronics solutions for demanding applications worldwide. With a rich 63-year history of delivering critical power electronics solutions and more than 100 engineers across North America, Europe, and Asia, Astrodyne TDI understands critical power where failure is not an option.
For additional information regarding Astrodyne TDI contact us today.