RESOURCES
EMC Regulations
---
All electronic devices and systems generate, spread and receive electromagnetic energy. However, the electromagnetic energy of one device may negatively affect the performance of another device. Radio and television feed interruptions, for example, are caused by the electromagnetic interference (EMI) of another device. To prevent this interference, all devices undergo testing for electromagnetic compatibility (EMC) to ensure that the electromagnetic energy they generate does not interrupt the performance of other devices in the vicinity.
While the interruption of a home television is a minor inconvenience, many electronics and electric systems have the potential to disrupt vital machines such as medical equipment. EMC regulations require these devices to meet specific standards to make certain they can safely and reliably function when they're around other electromagnetic environments.
Background on EMC Regulations
As technology evolves, electromagnetic compatibility regulations have changed as well. Even though EMC product standards are an important focus today, electromagnetic compatibility hasn't always garnered the same attention. Nearly a century ago, electromagnetic interference had a limited impact on daily life and was typically caused by natural phenomena like lightning strikes and sunspots. These small disturbances weren't detrimental to everyday life in part because of the lack of electromagnetic radiation caused by machines and technology. By the 1930s, however, a heavier focus was placed on electromagnetic compatibility.
The International Special Committee on Radio Interference — or CISPR — formed in 1934 to develop standardized testing methods for electromagnetic energy. Since then, many countries have established their own committees to create and modify standards for electromagnetic compatibility issues. In the United States, the Federal Communications Commission (FCC) oversees regulations regarding electromagnetic emissions for most types of devices. However, some applications of devices are exempted from FCC regulations and are overseen by other agencies. As technology evolves, electronic devices require thorough testing and specific rules that apply to the industries in which they are used.
Before the CISPR and the widespread application of EMC standards and regulations, EMI was an invasive issue for technologies like the telegraph and radio. To combat this interference, different radio frequencies were created and assigned for military and private use. Over time, their bandwidths were narrowed, providing a transmission that was clear and free of EMI. As electronic appliances, microprocessors and portable computers were developed, the amount of EMI dramatically increased, causing issues with EMC. Today, companies design products to reduce EMC-related problems.
One resource that helps reduce EMI is an EMI filter. EMI filters are either internal modules or separate devices that limit or eliminate extraneous EMI from sources like power lines, voltage variances, cosmic energy and appliances. Capacitors and inductors inhibit indirect currents, which reduces voltage and allows alternate currents to pass through. The capacitors send the high-frequency direct currents to the inductors which either ground the current or reduce it to a minimally invasive voltage.

EMC Industry Applications
Because so many sources of EMI can impact a device, EMI filters are necessary solutions for a broad spectrum of industries. Products developed for each sector must meet the applicable standards. The military, medical, industrial and consumer goods sectors all have unique standards and regulations and are overseen by agencies other than the FCC. Complying with these standards ensures that EMI protection is available for the component, board, system and overall system levels.
EMC Standards for Medical Devices
When it comes to medical devices, EMI can have severe consequences for patient safety. If EMI causes a medical device to malfunction, the patient may not receive the care they need. They may even suffer injury or death. EMI issues related to medical devices can be complex technically as well as from a public health perspective.
In the United States, the Center for Devices and Radiological Health (CDRH), a branch of the Food and Drug Administration (FDA), has regulatory authority over EMC in medical devices. Thousands of kinds of medical devices from thousands of manufacturers fall under the regulatory authority of the CDRH.
The FDA publishes a list of recognized voluntary consensus standards related to EMC requirements for medical devices:
IEC 60601-1-2: Medical Electrical Equipment — Part 1-2: General Requirements for Safety — Collateral standard: Electromagnetic Compatibility — Requirements and Tests (Edition 2:2001 with Amendment 1:2004; Edition 2.1 (Edition 2:2001 consolidated with Amendment 1:2004))
AAMI / ANSI / IEC 60601-1-2: Medical Electrical Equipment — Part 1-2: General Requirements for Safety — Collateral Standard: Electromagnetic Compatibility — Requirements and Tests
ANSI / RESNA WC/Vol. 2-1998, Section 21: Requirements and test methods for electromagnetic compatibility of powered wheelchairs and motorized scooters
ANSI C63:19:2001: Methods of Measurement of Compatibility between Wireless Communication Devices and Hearing Aids
The FDA has also published EMC MDQS — Electromagnetic Compatibility Aspects of Medical Device Quality Systems. This document serves as a guide for FDA investigators about how medical device companies are likely to address EMC in their Quality System (QS) and Good Manufacturing Practices (GMP).
To receive FDA approval, medical device firms submit an EMC report as part of their device 510(k) filing, a premarket notification which shows a medical device is at least as effective and safe as a legally marketed device and does not require a Premarket Approval application.
The FDA also issues recommendations related to interference between electronic medical devices and computed tomography (CT). According to the FDA, direct irradiation of some implantable and wearable medical devices using a CT scanner can cause electronic interference that may affect the device's operation. The FDA notes, though, that the likelihood of this interference causing clinically significant adverse events is "extremely low." The probability of interference is lower if the radiation dose and dose rate are lowered. The FDA also has CT-related recommendations for three specific kinds of devices — insulin pumps, cardiac implantable electronic devices and neurostimulators.
The FDA is also studying radio frequency identification (RFID) and its potential impacts on medical devices. The FDA encourages healthcare professionals and others who observe adverse events related to RFID's effects on medical devices to contact them to help advance the agency's understanding of risks associated with RFID.
EMC Standards for Military Applications
The military sector was one of the first to address the issue of EMC. Although many industries now must work to ensure compatibility of electronic devices, military EMC testing requirements are still some of the most stringent standards related to EMI. Controlling EMI is crucial in military applications. If equipment fails to function correctly due to EMI, it could jeopardize the success of military operations and the safety of military personnel. Hostile forces may also be able to detect EMI.
The primary standard used by the military for EMC is MIL-STD-461, which lays out requirements related to controlling EMI and the susceptibility of equipment to EMI. It applies to all equipment and systems that all agencies and activities of the Department of Defense (DoD) use, whether that equipment was designed for DoD or procured by them. The latest revision of the standard, MIL-STD-461G, was released in 2015.
MIL-STD-461 establishes EMI limits and test procedures for military equipment. The standard lists different limits for different applications such as use in ground vehicles, aircraft and ships. While the standard suggests specific limits, it also advises adjusting levels to ensure the best possible integration of all equipment.
To gain DoD approval, a company may conduct EMC testing in the presence of a DoD inspector or obtain lab accreditation.
To obtain a military contract, you often need to verify compliance with MIL-STD-461. Many civilian organizations also use the standard even if they don't intend to provide equipment to the military. Because MIL-STD-461 is stricter than many other standards, if a product complies with it, it also complies with other less stringent standards. This enables the company to perform just one test demonstrating compliance to MIL-STD-461 rather than multiple tests to verify compliance with different standards. If a company provides some products to the military but also sells products to organizations within other industries, it might use MIL-STD-461 rather than the more general FCC requirements.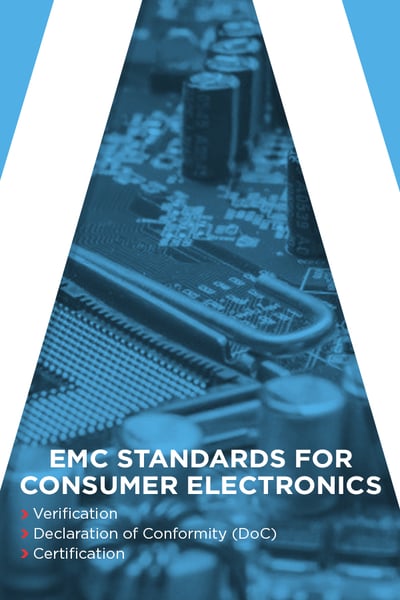 EMC Standards for Consumer Electronics
In the United States, the FCC has regulatory authority over many kinds of consumer electronics under Title 47 of the Code of Federal Regulations (47CFR). Part 15 of these regulations covers radio frequency devices, including both intentional transmitters, such as mobile phones, and non-intentional transmitters, such as personal computers and television receivers. Some types of digital devices are exempted from these regulations including medical devices and devices that an industrial plant or public utility uses as an electronic control or power system. Digital devices used in some types of consumer goods, such as appliances, are also exempt.
47CFR includes requirements for the radiated and conducted emissions of equipment being tested. It doesn't include requirements for immunity limits, which define a device's ability to function without degradation when faced with EMC.
The process of achieving compliance with FCC requirements mainly relies on self-certification, although the FCC can perform an audit to verify a company's compliance claims. For consumer goods, there are three main pathways to EMC compliance with FCC standards:
Verification is a self-certification process. The manufacturer tests its product and prepares a technical report to demonstrate compliance. The company may retain this documentation and, if requested, submit to the FCC.
Declaration of Conformity (DoC) is similar to verification, but the testing must take place in a laboratory accredited under the National Voluntary Laboratory Accreditation Program (NVLAP) or the American Association for Laboratory Accreditation (A2LA).
Certification requires the approval of the FCC or a Telecoms Certification Body (TCB) — a private organization accredited to provide electronic products certifications.
The method used depends on the type of product. Most consumer goods use either the verification or the declaration of conformity (DoC) method.
The United States has an Agreement on Mutual Recognition (MRA) with various governments. These agreements establish mutual recognition of Conformity Assessment Bodies and mutual acceptance of testing results and certification processes used in evaluating equipment's conformity to the regulations of the importing country. These agreements aim to facilitate trade between the countries involved in the agreement.
The FCC has also taken steps to align its EMC requirements with International Electrotechnical Commission (IEC) CISPR Publication 22, which describes limits and measurement methods for EMI.
The IEC System of Conformity Assessment Schemes for Electrotechnical Equipment and Components (IECEE) also operates the CB scheme, a system for the mutual acceptance of test results and certificates associated with the safety of electrical and electronic products. The CB scheme is a multilateral agreement between the participating countries, of which the United States is one. Some systems used by other countries and regions include Conformité Européenne (CE) markings in Europe; the Innovation, Science and Economic Development (ISED) framework in Canada; the Regulatory Compliance Mark in Australia and New Zealand and the Voluntary Control Council for Interference by Information Technology Equipment (VCCI) in Japan.

EMC Standards for Industrial Goods
The FCC regulates industrial, scientific and medical (ISM) equipment that generates and uses radio frequency energy under part 18 of 47CFR. ISM excludes applications in the telecommunications sector. Most ISM applications involve the production of physical, chemical or biological effects such as heating, mechanical vibrations, the ionization of gases and the acceleration of charged particles.
Also, Part 15 of 47CFR defines two classes of digital devices according to the environment they're intended to be used in. Class A devices are used in commercial and industrial settings, and Class B devices are used in residential environments. Class B limits are more stringent than those for Class A.
Part 18 of 47CFR establishes conditions under which ISM equipment can be operated, including the frequencies they can use, to prevent harmful interference. It requires that ISM equipment is designed and manufactured according to sound engineering practices and that it has adequate shielding and filtering to suppress emissions outside the allowed frequency bands.
Depending on the type of equipment, manufacturers may use the verification, DoC or certification method to achieving EMI and EMC compliance. For many kinds of ISM equipment, you must use the DoC route. A representative of the FCC may request that the manufacturer, owner or operator of ISM equipment make it available for inspection and provide the FCC with information necessary to verify compliances with FCC regulations.
The definition of ISM equipment in Part 18 of 47CFR is similar to Group 2 equipment as described in CISPR 11, which itself is similar to EN55011 for European Union certification.

Custom EMI Solutions from Astrodyne TDI
Navigating EMC regulations can be complicated, and requirements vary depending on the industries and regions you serve. Working with an EMI filter manufacturer that has extremely flexible manufacturing capabilities and whose products have had success in a variety of markets can help.
Astrodyne TDI designs and manufactures EMI filters, as well as power supplies, for a range of markets, including the medical, military, industrial and consumer goods sectors. We can provide off-the-shelf filters and can also design custom filters to meet your exact specifications. We have more than 50 years of experience in delivering highly reliable custom EMI filters.
Our filters range from small single-phase components to industrial-grade three-phase filters. The majority of our standard inventory is approved by recognized organizations such as CE, Underwriters Laboratories (UL) and the Canadian Standards Association (CSA). Thanks to our vast selection of high-quality, off-the-shelf filters and our in-house engineering and design capabilities, we can provide you with an EMI solution that fits your needs as well as the applicable industry standards.
To learn more about our capabilities, contact us or request a custom quote today.