RESOURCES
Powering the Future: Plasma Generation Power Supply
---
Plasma generation tools play a crucial role in producing high-intensity plasma, which serves as the backbone of numerous industries such as flat screen coatings and semiconductor manufacturing. Engineers are continuously in search of robust and efficient power supplies for plasma generators, aiming to achieve precise voltage levels and forms that perfectly shape the plasma for their specific applications. These advanced tools not only create plasma but also maintain it with utmost efficiency, effectively transferring heat in the process.
Plasma generator power supply requirements are unique and complex, and working with a trusted manufacturer is essential to meet the stringent pulse shaping requirements.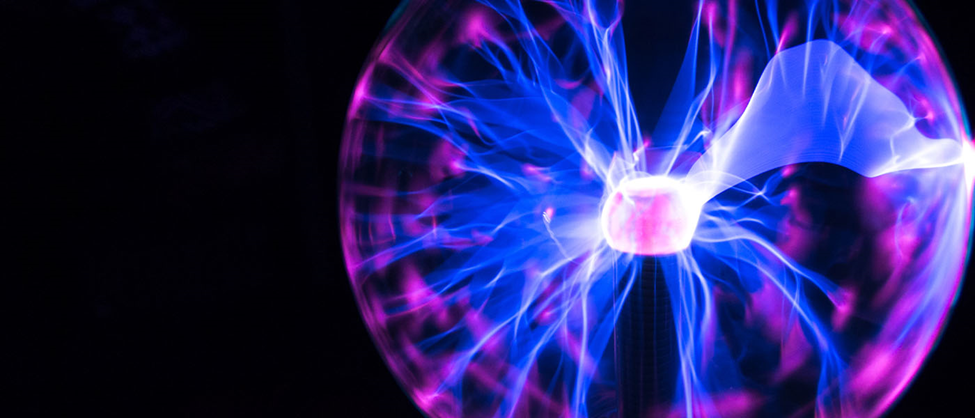 What Is Plasma Generation?
Nuclear fusion power is essential for plasma generation— a unique state of matter known as ionized gas, consisting of atoms or molecules that have lost or gained electrons. Plasma generator tools produce the required radio frequency (RF) to create and maintain plasma in specialized chambers. Once generated, the plasma is suitable for several applications, including industrial manufacturing for film deposition, integrated circuits, and surface cleaning or modification.
To generate plasma, it is necessary to infuse gas with enough heat and energy to liberate electrons from atoms and molecules, allowing them to coexist with ions. This process entails introducing the gas into the region between two parallel electrodes. While one of the electrodes remains grounded, the power supplied by an RF generator energizes the others, resulting in a pure capacitive coupling between them. This electrical reaction stimulates the gas, giving rise to the formation of plasma.
Many types of plasma generators exist, with different chamber sizes and degrees of control over the variables. Atmospheric pressure systems, also known as plasma pens, create a plasma within a nozzle and expel it within a stream of compressed air to generate a plasma beam for small, in-line applications.
Why Is the Right Power Supply Important for Plasma Generation?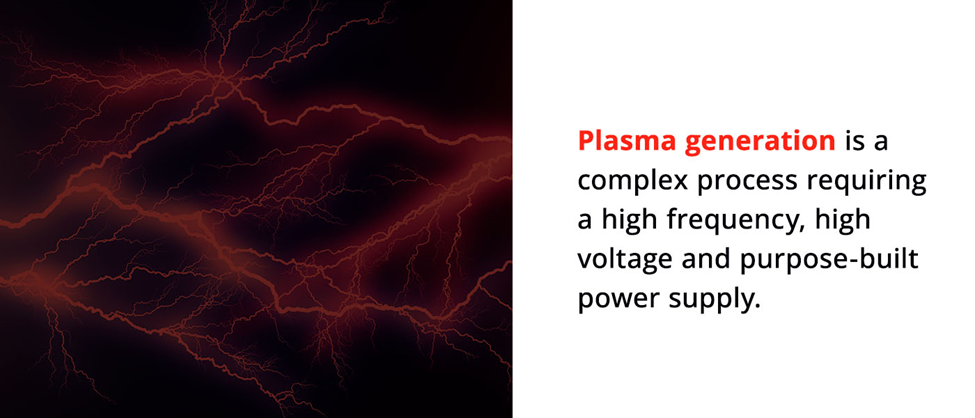 The process of generating complex plasma can present demanding power requirements, including high-frequency pulsing, precise output controls, and rapid communication with feedback. Additionally, these requirements must be met within a compact package that complies with the sophisticated standards of the industry. A typical plasma generation power supply is a DC and RF device. Plasma power supplies form the foundation of many industries, including semiconductor manufacturing, flat-screen coating, and photovoltaic production.
Power solutions must be scalable and adaptable to achieve the required power levels and pulsing requirements for plasma generation. It requires seamless integration into the system, effortless installation, and unparalleled reliability to ensure precise and rapid pulse shaping to meet the most demanding power generation requirements.
Power Supply Requirements for Plasma Generation Tools
Plasma power supplies have a wide range of applications, including thermal spray coating, metal cutting or welding, and waste remediation. The complexities involved in generating plasma necessitate a top-notch power supply that possesses a set of essential features.
Application expertise: Plasma generation involves a set of unique technical challenges. Your provider must have the expertise in this specific application to tackle these challenges.
Liquid cooling: Plasma generators must operate up to 20kw of RF power, requiring liquid cooling to transfer heat efficiently, drawing it away from the power supply and maintaining optimal enclosure temperatures.
High efficiency: Since plasma generation is inherently inefficient, it becomes crucial for power supplies to deliver optimal efficiency by producing minimal heat and consuming only the necessary power.
Current and airflow: Current flow is critical in a plasma generation power supply. It maintains ionization within the plasma and gives it the necessary energy to sustain plasma without compromising its properties. Airflow controls the contamination within the plasma generation system, reducing the likelihood of unwanted chemical reactions.
Consistency: A plasma generation power supply must provide consistent output to provide the necessary energy for sustaining ionization and the formation of charged particles.
Monitoring: When a plasma generator is connected to a power supply, the power supply circuit must be able to determine the amount of current that runs through the system to enhance its overall performance.
Copy exact: Every power supply unit manufactured for a plasma generator must be a replica of the others, reproducing the precise performance characteristics and operating parameters to ensure consistency and reliability in plasma generation.
High density: High-density power supplies allow more power to be produced in a smaller space, enhancing the functionality of the plasma generator at reduced system costs.
Programmability: The intricacies of plasma generation require a power supply that allows for detailed adjustments and remote control. Features to improve plasma generation power supply performance include remote monitoring, temperature compensation, and overcurrent and overvoltage protection.
High-current DC control: Users must be able to control the DC output precisely in plasma generation. Any power supply must allow for precise control to ensure stability and economy.
Quick-turn power distribution unit development: The selected manufacturer must be capable of providing power distribution units to meet strict project timelines.
Power supply units: Plasma generation power supply manufacturers must have a broad range of easily configurable power supply units at short lead times.
Product features: All semiconductors must be designed to meet wafer fabrication requirements.
Semi F47 and Semi S2: Semiconductor processing equipment is vulnerable to voltage sags, and the PSU supplier must comply with the Semi F47 standard, which defines the voltage sag immunity specifications for many applications. In addition, they must meet the Semi S2 environmental health and safety guidelines for semiconductor manufacturing equipment.
Three-phase high voltage input: Plasma generation requires three-phase power to ensure the required voltages are constant when transferred to the generator.
RF energy filtering: RFI occurs when unwanted radio signals disrupt electronic device operation. Plasma power supplies require RF energy filtering to protect the generator from unwanted RFI.
How Astrodyne TDI Can Help with Your Plasma Generation Power Supply Requirements
Astrodyne TDI has made groundbreaking strides with Kodiak — our water-cooled power solution for plasma generation. With over 60 years of experience researching, developing, and supplying quality power supplies and electromagnetic interference filters for various industry applications, we understand that every project is unique. We're willing to compromise, optimizing each solution for individual system requirements.
Our differentiated power supplies solve some of the most demanding industry challenges, from precisely controllable output and voltages to air and liquid-cooled products for noise reduction. We're the most significant player in the industry with a 50% global market share, making us the perfect one-stop shop to solve all your power supply needs.
Order Your Plasma Generation Power Supply From Astrodyne TDI



Powering plasma generators involves meeting unique and demanding requirements to ensure the correct outputs and electromagnetic interference protection. A clear picture of what you need is the first step to finding a manufacturer who goes the extra mile to meet your requirements.
Astrodyne TDI has been an industry-leading power provider for decades. Our commitment to meeting our client's unique needs and experience in numerous power applications means we offer custom solutions for challenging environments. Our experienced team can help you choose the best option for your plasma generation requirements.
Reach out to us today to learn more or request a quote, and let us worry about the power so you don't have to.