RESOURCES
Astrodyne TDI's RP328 3-phase EMI Filter Features Touch-proof Terminals
---
Compact, Single Stage Filters Ideal for Low to Midrange Power Inverters
Mansfield, Mass. – November 2015 – Astrodyne TDI, a global leader in the design and manufacture of EMI and RFI power line filters, now offers its RP328 series with screw-type, touch-proof terminals. This single stage, 3-phase power line filter family targets low to midrange power inverters as well as other chassis-mounted applications that require high insertion loss performance in a compact mechanical form factor.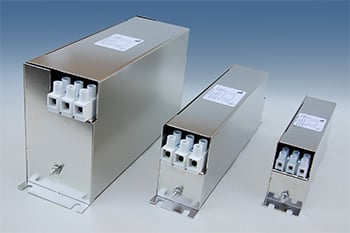 The cost-effective RP328 series is ideal for use with 3-phase variable frequency drives (VFD) and inverter-based systems that require a small mounting footprint.
Anand Awasthi, EMI Filters product manager, said, "With the new touch-proof screw terminals, Astrodyne TDI helps manufacturers achieve an optimized EMI compliance solution with a connectivity scheme that is becoming both critical and standard in the industry." The RP328 series is also available with threaded stud type terminals. Other options, such as wire leads, are available upon request.
Astrodyne TDI's RP328 family of filters have a current rating up to 180 A and are rated at 480 VAC at 50/60/400 Hz. The RP328 filter series offers a wide range of line to ground (Y) capacitance values, resulting in thousands of possible configurations. All variations are UL, CSA and IEC/EN approved. Customized solutions can be offered for demanding applications.
Astrodyne TDI's 'UL and IEC Client Data Acceptance Program' ensures unparalleled time-to-market advantages to customers seeking agency approved customized solutions.
Technical Specifications
Touch-proof terminals
UL, CSA and IEC/EN approved
Current rating up to 180 A
Rated at 480 VAC at 50/60/400 Hz
Access our blog: http://www.astrodynetdi.com/news/
About AstrodyneTDI
Astrodyne TDI designs and manufactures innovative power solutions for demanding applications worldwide. The company's products include power supplies and EMI filters for industrial, semiconductor manufacturing, medical, consumer appliance, military, and aerospace markets. With over 50 years of power supply design experience, Astrodyne TDI is headquartered in Hackettstown, NJ and has engineering and manufacturing centers in the USA and China. For more information, visit www.AstrodyneTDI.com.